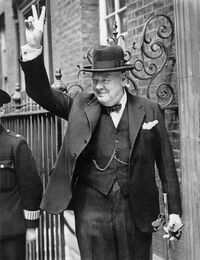 Sir Winston Leonard Spencer Churchill (November 30, 1874 - January 24, 1965) was a British politician, army officer, author, historian and amateur artist. He is best known for serving as Britain's Prime Minister during most of World War II.
Churchill was a prolific writer, chiefly of non-fiction. His works include newspaper and magazine articles, biographies, an autobiography, one novel, one short story, the scripts for two films and collections of his wartime speeches. His best known books are The Second World War, published in six volumes between 1948 and 1954, and A History of the English-Speaking Peoples, first published in four volumes between 1956 and 1958. Churchill received the Nobel Prize for Literature in 1953.
Biography
Winston Churchill was born in his aristocratic family's ancestral home, Blenheim Palace, Woodstock, Oxfordshire, on November 30, 1874. His grandfather was the 7th Duke of Marlborough. His father, Lord Randolph Churchill, was a Conservative politician who served as Secretary of State for India, Leader of the House of Commons and Chancellor of the Exchequer (minister of finance). His mother Jeanette "Jennie" Jerome was an American, the daughter of a millionaire from New York City.
In 1894, Churchill graduated from the Royal Military College, Sandhurst. He was sent to observe the Cuban War of Independence in 1895. Churchill's first published writings were articles that he wrote about the war for the British newspaper The Graphic. Churchill saw active military service in India in 1896, in Sudan in 1898 and in the Second Boer War in South Africa in 1899. During those campaigns, Churchill also served as war correspondent for the Indian newspaper The Pioneer and the British newspapers The Daily Telegraph and The Morning Post. Books chronicling his experiences in those wars were published soon afterwards.
In 1900, Churchill was elected Conservative Member of Parliament for the northern English town of Oldham. In 1904, he switched allegiance to the Liberal Party and served as President of the Board of Trade, Home Secretary and First Lord of the Admiralty before the First World War. Churchill lost his position as First Lord of the Admiralty during World War I because of the disastrous battle plans which he put forward for the Battle of Galipoli. Churchill briefly returned to active military service and commanded troops on the Western Front. Churchill returned to parliament in 1917 and served as Minister of Munitions, Secretary of State for War and Secretary of State for Air.
In 1923, Churchill rejoined the Conservative Party and served as Chancellor of the Exchequer from 1924 to 1929.
Churchill was out of office for most of the 1930s. During that time, he wrote several newspaper articles which warned about the threat posed by Nazi Germany and Fascist Italy.
At the start of World War II, Churchill was appointed First Lord of the Admiralty again. When Prime Minister Neville Chamberlain resigned on May 10, 1940, Churchill took over his office and headed a coalition government. Churchill served as Prime Minister for most of the war. His refusal to surrender, compromise with the enemy or contemplate defeat are considered to have set a powerful example to the British people. His speeches and radio broadcasts were particularly important in mainataining morale.
Churchill lost the July 1945 election but continued to lead the Conservative Party in opposition. In October 1951, Churchill was elected for his second term as Prime Minister and held office until 1955.
In 1964, Churchill retired from parliament. Having suffered a severe stroke on January 15, 1965, Churchill died nine days later. He was given a state funeral, attended by Queen Elizabeth II and representatives from one hundred and twelve countries. His funeral was covered live on television by every European country except for Ireland and attracted 350 million viewers across the continent.
Career as a writer
Works
References
External links
Community content is available under
CC-BY-SA
unless otherwise noted.