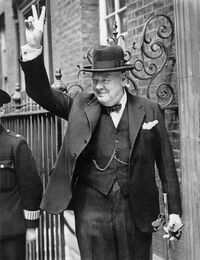 Sir Winston Leonard Spencer Churchill (November 30, 1874 - January 24, 1965) was a British politician, army officer, author, historian and amateur artist. He is best known for serving as Britain's Prime Minister during most of World War II.
Churchill was a prolific writer, chiefly of non-fiction. His works include newspaper and magazine articles, biographies, an autobiography, one novel, one short story, the scripts for two films and collections of his wartime speeches. His best known books are The Second World War, published in six volumes between 1948 and 1954, and A History of the English-Speaking Peoples, first published in four volumes between 1956 and 1958. Churchill received the Nobel Prize for Literature in 1953.
Biography
Career as a writer
Works
External links
Community content is available under
CC-BY-SA
unless otherwise noted.