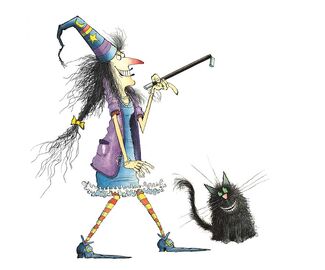 The Winnie and Wilbur series is a series of humorous fantasy picture books for young children. The books in the series are written by the Australian-born author Valerie Thomas and illustrated by the Zimbabwean-born artist Korky Paul. They are published in the United Kingdom by Oxford University Press.
The series' title characters are a witch named Winnie and her big black cat Wilbur. The plot of a Winnie and Wilbur story is typically set in motion when Winnie confronts a problem (or something that she perceives to be a problem) or decides that she needs to do something to make her life easier. Winnie then tries to make things better by waving her magic wand and saying the magic word, "Abracadabra." Although Winnie's magic usually works well, it has unforeseen consequences that cause further problems or make the situation worse. The stories usually end happily with Winnie using magic again to return things to normal or make the situation better than it was before.
Winnie and Wilbur books have sold 7 million copies around the world and have been translated into thirty languages. Some of the titles in the series have been specially adapted for young learners of English as a foreign language.
An animated TV series based on the books premiered on Discovery Kids in Latin America on December 17, 2015 and on Channel 5 in the United Kingdom on December 24, 2015.
Titles in the series
Winnie the Witch (1987)
Winnie in Winter (1996)
Winnie Flies Again! (1999)
Winnie's Magic Wand (2002)
Winnie's New Computer (2003)
Winnie at the Seaside (2005)
Winnie's Midnight Dragon (2006)
Happy Birthday, Winnie (2007)
Winnie's Flying Carpet (2008)
Winnie's Amazing Pumpkin (2009)
Winnie in Space (2010)
Winnie Under the Sea (2011)
Winnie's Dinosaur Day (2012)
Winnie's Pirate Adventure (2013)
Winnie's Big Bad Robot (2014)
Winnie's Haunted House (2015)
Winnie and Wilbur Meet Santa (2016)
Winnie and Wilbur: The Naughty Knight (2017)
Winnie and Wilbur at Chinese New Year (2020)
See also
External links