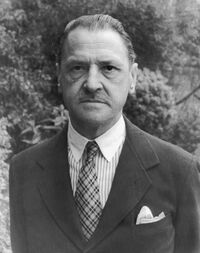 William Somerset Maugham (January 25, 1874 – December 16, 1965) was an English playwright, novelist and short story writer.
Maugham's homosexual leanings shaped his fiction, in two ways. Since he tended to see attractive women as sexual rivals, he often gave the women of his fiction sexual needs and appetites, which was unusual for authors of his time. "Liza of Lambeth," Cakes and Ale and The Razor's Edge all feature women determined to appease their strong sexual appetites, heedless of the result. Also, the fact that Maugham's own sexual appetites were highly disapproved of, or even criminal, in nearly all of the countries in which he traveled, made Maugham unusually tolerant of the vices of others.
Maugham's masterpiece is generally agreed to be Of Human Bondage, a semi-autobiographical novel that deals with the life of the main character Philip Carey, who like Maugham, was orphaned, and brought up by his pious uncle. Philip's clubfoot causes him endless self-consciousness and embarrassment, echoing Maugham's struggles with his stutter.
In 1947, Maugham instituted the Somerset Maugham Award, awarded to the best British writer or writers under the age of thirty-five of a work of fiction published in the past year.
Works
Liza of Lambeth (1897)
The Making of a Saint (1898)
Orientations (1899)
The Hero (1901)
Mrs Craddock (1902)
The Merry-go-round (1904)
The Bishop's Apron (1906)
The Explorer (1908)
The Magician (1908)
Of Human Bondage (1915)
The Moon and Sixpence (1919)
The Trembling of a Leaf (1921)
On A Chinese Screen (1922)
The Painted Veil (1925)
The Casuarina Tree (1926)
The Letter (Stories of Crime) (1930)
Ashenden: Or the British Agent (1928)
Cakes and Ale: or, the Skeleton in the Cupboard (1930)
The Book Bag (1932)
The Narrow Corner (1932)
Ah King (1933)
The Judgement Seat (1934)
Don Fernando (1935)
Cosmopolitans - Very Short Stories (1936)
My South Sea Island (1936)
Theatre (1937)
The Summing Up (1938)
Christmas Holiday (1939)
Princess September and The Nightingale (1939)
France At War (1940)
Books and You (1940)
The Mixture As Before (1940)
Up at the Villa (1941)
Strictly Personal (1941)
The Hour Before Dawn (1942)
The Unconquered (1944)
The Razor's Edge (1944)
Then and Now (1946)
Of Human Bondage - An Address (1946)
Creatures of Circumstance (1947)
Catalina (1948)
Quartet (1948)
Trio (1950)
The Writer's Point of View' (1951)
Encore (1952)
The Vagrant Mood (1952)
The Noble Spaniard (1953)
Purely For My Pleasure (1962)
External links
Community content is available under
CC-BY-SA
unless otherwise noted.