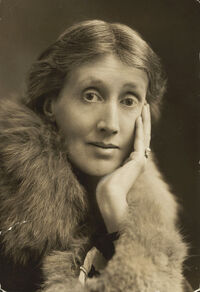 Virginia Woolf (born Adeline Virginia Stephen; 25 January 1882 – 28 March, 1941) was a major twentieth-century English writer, a well-regarded essayist, and a key figure in the modernist and feminist movements. Her fiction was largely experimental, and made extensive use of stream-of-consciousness narrative.
Along with other influential English artists and intellectuals such as Lytton Strachey, Clive Bell, E.M. Forster, and her husband Leonard Woolf, Virginia Woolf was part of the literary Bloomsbury Group.
She began writing as an adolescent, publishing anonymous reviews in the Times Literary Supplement. Her first novel, The Voyage Out (originally titled Melymbrosia), was published in 1915 by Duckworth; she went on to publish a number of highly experimental, highly wrought, critically-acclaimed novels, the most famous of them being To the Lighthouse (1927), Mrs Dalloway (1925), Orlando (1928), and The Waves (1931). She was particularly concerned with women's experience, not only in her novels but in her essays and two feminist polemics: A Room of One's Own (1929) and Three Guineas (1938).
External links

This article is a stub. You can help the Literawiki by expanding it.
Community content is available under
CC-BY-SA
unless otherwise noted.