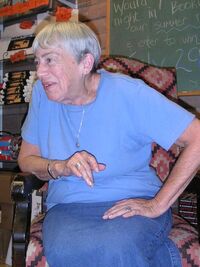 Ursula Kroeber Le Guin (October 21, 1929 - January 22, 2018) was an American author. She published titles in several genres, especially fantasy and science fiction, and won numerous awards for her writing, including the National Book Award, the Hugo Award, and the Nebula Award. She also wrote poetry, essays, short stories and children's fiction.
Works
A Wizard of Earthsea (1968)
The Tombs of Atuan (1971)
The Farthest Shore (1972)
Tehanu|Tehanu: The Last Book of Earthsea (1990)
The Other Wind (2001)
The Earthsea short stories
"The Word of Unbinding" (1975)
"The Rule of Names" (1975)
"Dragonfly"
'Tales from Earthsea,
Hainish Cycle (science fiction)
The Hainish Cycle novels
Rocannon's World (1966)
Planet of Exile (1966)
City of Illusions (1967)
The Left Hand of Darkness (1969)
The Dispossessed: An Ambiguous Utopia (1974)
The Word for World is Forest (1976)
Four Ways to Forgiveness (1995)
Worlds of Exile and Illusion (1996) (omnibus of Rocannon's World, Planet of Exile and City of Illusions)
The Telling, (2000)
The Hainish Cycle short stories
"Dowry of the Angyar" (1964) (also used as the prologue of Rocannon's World)
"Winter's King" (1969)
"Vaster Than Empires and More Slow" (1971)
"The Day Before the Revolution" (1974)
"The Shobies' Story" (1990)
"Dancing to Ganam" (1993)
"Another Story OR A Fisherman of the Inland Sea" (1994)
"The Matter of Seggri" (1994)
"Unchosen Love" (1994)
"Solitude" (1994)
"Coming of Age in Karhide" (1995)
"Mountain Ways" (1996)
"Old Music and the Slave Women" (1999)
Miscellaneous novels
The Lathe of Heaven (1971)
The Eye of the Heron (1978) (first published in the anthology Millennial Women)
Malafrena (1979)
The Beginning Place (1980) (also published as Threshold, 1986)
Always Coming Home (1985)
Lavinia (2008)
External links
Community content is available under
CC-BY-SA
unless otherwise noted.