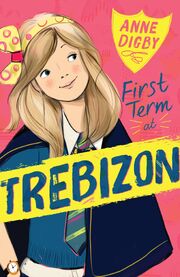 Stillhouse Lake is a school story novel series written by Anne Digby. This series debuted with "First Term at Trebizon" in October 1979. The series is made up of fourteen novels.
Summary
The novel series follow the protagonist Rebecca Mason from when she joins a fictional school, Trebizon, in the first term through to the end of her fifth year. A major theme throughout the series is Rebecca's involvement in tennis, due to her talent and skills in this sports. Other major characters in this series include Rebecca's two best friends, Tish Anderson and Susan Murdoch, as well as her boyfriend Robbie Anderson.
Book list
Book
Title
Publisher
Date
1
First Term at Trebizon
W. H. Allen
October 1978
2
Second Term at Trebizon
February 1979
3
Summer Term at Trebizon
August 1979
4
Boy Trouble at Trebizon
Granada
August 1980
5
More Trouble at Trebizon
March 1981
6
The Tennis Term at Trebizon
January 1982
7
Summer Camp at Trebizon
June 1982
8
Into the Fourth at Trebizon
November 1982
9
The Hockey Term at Trebizon
February 1984
10
Fourth Year Triumphs at Trebizon
October 1985
11
The Ghostly Term at Trebizon
Puffin Books
February 1990
12
Fifth Year Friendships at Trebizon
June 1990
13
Secret Letters at Trebizon
Straw Hat
January 1993
14
The Unforgettable Fifth at Trebizon
May 1994
Community content is available under
CC-BY-SA
unless otherwise noted.