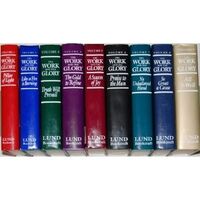 The Work and the Glory is a historical fiction series written by Gerald N. Lund. It is about the founding and early growth of the Church of Jesus Christ of Latter-day Saints from the point of view of the fictional Steed family. Throughout the series the Steeds meet and become acquainted with many of the prominent early Church members. The nine books covers a twenty-year period from 1827 (when the Steeds move from Vermont to western New York state) to 1847 (when they settle in the Salt Lake Valley) and the storyline has both fictional and actual events.
Books
Pillar of Light
Like a Fire is Burning
Truth Will Prevail
Thy Gold to Refine
A Season of Joy
Praise to the Man
No Unhallowed Hand
So Great a Cause
All Is Well
Community content is available under
CC-BY-SA
unless otherwise noted.