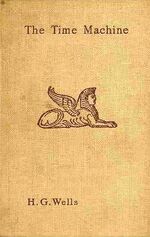 The Time Machine is a science fiction novel, published in 1895, that was written by H.G. Wells. It was originally published in serial form. It was one of the first stories featuring time travel, especially using a "vehicle".
The overall story is about a man, simply referred to only as the "Time Traveller," who brings a strangely selected group of people over for a weekly dinner. Eventually, the Time Traveller finds himself in a world with fiendish ape-like beasts called Morlocks, and tries to escape the reality. After returning to his time and meeting up with original guests, he promises to return, but however is never heard from again.
External links

This article is a stub. You can help the Literawiki by expanding it.