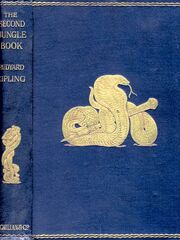 The Second Jungle Book is a collection of short stories and poems by the British author Rudyard Kipling. The book was first published in 1895, one year after the first Jungle Book.
Five of the eight stories in the collection feature Mowgli, a boy raised by wolves in the Indian jungle.
Contents
"The Law of the Jungle" (verse)
"The Miracle of Purun Bhagat"
"A Song of Kabir" (verse)
"Mowgli's Song Against People" (verse)
"The Undertakers"
"A Ripple Song" (verse)
"The Song of the Little Hunter" (verse)
"Quiquern"
"Angutivaun Taina" (verse)
"Red Dog"
"Chil's Song" (verse)
"The Outsong" (verse)
External links
Community content is available under
CC-BY-SA
unless otherwise noted.