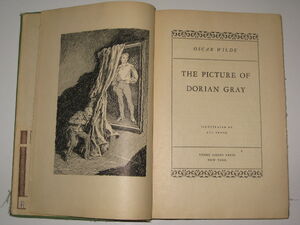 The Picture of Dorian Gray is the only published novel by the Irish author Oscar Wilde. It first appeared in print in a version of thirteen chapters in the July 1890 issue of the American publication Lippincott's Monthly Magazine.[1] A revised and expanded edition of twenty chapters was published in book form in 1891.
The novel tells the story of a young and handsome man named Dorian Gray who is the subject of a painting by the artist Basil Hallward. Aware that his beauty will fade one day, Dorian expresses a desire to sell his soul so that his portrait would age rather than he. The day that Dorian Gray's portrait is completed is also the day on which Dorian meets the amoral and highly persuasive Lord Henry Wotton. Under Lord Henry's influence, Dorian Gray, previously someone of good moral character, starts to commit various debauched acts. Dorian's wish having been granted, the portrait he has in his house serves as a reminder of the effect each wicked act has on his soul.
There have been numerous adaptations of the novel to other media.
Plot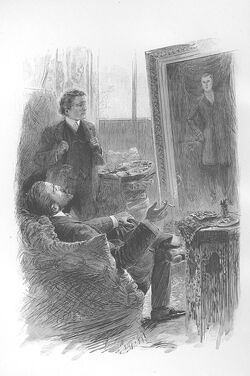 The novel opens on an afternoon in June in 19th century London. The young Lord Henry Wotton is visiting the studio of the young artist Basil Hallward. Lord Henry sees a beautiful full-length portrait of a very good-looking young man. He says that Basil should exhibit the painting. Basil says that he will never exhibit it because he put too much of himself into it. Although he does not intend to tell Lord Henry anything about the young man in the picture, Basil lets slip that his name is Dorian Gray.
Basil explains that Dorian Gray is 20 years-old. Basil met him at a party two months earlier. When Basil first saw him, he felt a "curious sensation of terror". He was certain that the young man's personality would dominate him and that he would lose his independence. Basil left the room to avoid meeting the man. Soon afterwards, however, he asked the party's hostess to introduce them to each other. Since then, Basil has seen Dorian Gray every day. Basil feels that Dorian Gray strongly influences his art for the better. He has painted, drawn and sketched the young man but also feels that he exerts an influence on works of art in which he does not appear. A landscape for which Basil was offered a great deal of money was painted while Dorian Gray was sitting beside him. Lord Henry says that Basil will tire of Dorian Gray when he no longer finds him attractive. Basil insists that Dorian Gray's personality will dominate him forever.
Lord Henry remembers that he has heard the name Dorian Gray before. His aunt, Lady Agatha, said that he was a "wonderful young man" who was going to help her to do charitable work in the East End. Lady Agatha did not mention that he was good-looking and Lord Henry had imagined him as being ugly. At that moment, Basil Hallward's butler announces that Dorian Gray has arrived. Basil tells Lord Henry that Lady Agatha is right, Dorian Gray is a genuinely good person. He warns Lord Henry, "Don't try to influence him. Your influence will be bad."
Dorian Gray has come to pose for another full-length portrait. Lord Henry tells him that he has heard a lot about him from Lady Agatha. Dorian says that he thinks that Lady Agatha is angry with him because he forgot to go to a charity concert at which he was supposed to be performing in Whitechapel. Lord Henry says that Dorian is "too charming" to do charity work. Basil Hallward politely asks Lord Henry to leave. Dorian asks him to stay because Basil never talks while he is painting. Basil admits that he never talks or listens while he is painting and, to keep Dorian happy, asks Lord Henry to stay. He tells Dorian to pay no attention to anything Lord Henry says because he is a bad influence on all of his friends. Dorian asks if that is true. Lord Henry says that all influences are bad because people should be themselves. He goes on to say that all people are afraid of their true natures and suffer as a result and that, "The only way to get rid of a temptation is to yield to it."
Having announced that he feels tired of posing for the portrait, Dorian goes out into the garden. Lord Henry joins him. Basil remains in the studio to work on the painting's background. Lord Henry tells Dorian to go into the shade to avoid getting sunburned. Dorian says that it does not matter. Lord Henry says that it does because Gray is beautiful. He adds, however, that his beauty will not last. Lord Henry says that Dorian's beauty will soon be gone along with his youth and that he should enjoy it while it lasts.
Basil calls Lord Henry and Dorian Gray back inside to see the finished portrait. Lord Henry is very impressed by how beautiful the painting is and wants to have it. Basil says that it belongs to Dorian. When Dorian looks at the picture, he is struck by his own beauty for the first time. Thinking about what Lord Henry said, Dorian Gray says, "How sad it is! I shall grow old, and horrible, and dreadful. But this picture will remain always young ... If it were only the other way! If it were I who was to be always young and the picture that was to grow old! For that - for that - I would give everything ... I would give my soul for that!" Seeing that Dorian is unhappy, Basil offers to destroy the picture. Dorian stops him, saying that it would be murder. He then says that he loves the picture and would be happy to accept it as a gift.
Lord Henry determines to dominate Dorian Gray just as Dorian Gray dominates Basil Hallward. A few days after the portrait is completed, both Lord Henry and Dorian Gray are among the guests invited to lunch at the home of Lady Agatha. Lady Agatha chastises Lord Henry for trying to persuade Dorian Gray to give up his charitable work in the East End. Lord Henry says that the problem of the East End is, "the problem of slavery and we try to solve it by amusing the slaves". He goes on to say that he has no change to propose and that, "Humanity takes itself too seriously." Another guest at the lunch expresses relief that she no longer has to feel guilty about taking no interest in Lady Agatha's charity work. Lord Henry goes on to talk at length about his philosophy of life. Everyone listens intently to Lord Henry. Dorian Gray never takes his eyes off him. At the end of the lunch, Dorian leaves with Lord Henry, ignoring the appointment he has to sit for Basil Hallward.
A month after meeting Lord Henry, Dorian Gray announces to him that he has fallen in love with an actress named Sybil Vane and explains how he met her. Three weeks earlier, at seven o'clock one evening, Dorian Gray went out in search of "some adventure". He went into the East End and stopped outside a small, tawdry-looking theater. The theater's old Jewish manager, whose name is later revealed to be Mr. Isaacs, was standing outside and said to Dorian, "Have a box my Lord?" Dorian accepted the offer. He found, to his surprise, that the play that was performed was Romeo and Juliet. The production was mostly of very poor quality but Sybil Vane was excellent as Juliet. Dorian Gray was captivated by her beauty and her voice. At the end of the performance, Mr. Isaacs asked Dorian Gray if he would like to come backstage and meet Sybil Vane. He declined the offer. Dorian came back to the theater on the two following evenings. On the third night, he agreed to meet Sybil Vane. Mr. Isaacs kept calling Dorian, "my Lord". Dorian felt the need to reassure Sybil Vane that he was not a lord. Sybil Vane responded by saying, "You look more like a prince. I must call you Prince Charming".[2]
Dorian Gray has been back to the theater every night since then. He has seen Sybil Vane perform in many of William Shakespeare's plays and genuinely believes that she is a great actress. He wants to buy her out of the contract that she has with Mr. Isaacs so that she can perform in the West End. He tells Lord Henry that he wants he and Basil to come to the little East End theater to see Sybil Vane act.
Dorian admits that he has not seen Basil for a week, adding, "He says things that annoy me. He gives me good advice." Dorian has recently received the portrait of him which Basil painted. He says that he is jealous of the painting because it is now one month younger than he is. After Dorian has gone, Lord Henry takes satisfaction from feeling responsible for having stirred Dorian's passions. He believes that it will be interesting to make a scientific observation of Dorian's emotions. Later that evening, Lord Henry receives a telegram from Dorian Gray which says that he and Sybil Vane are engaged.
Sybil Vane's mother, also an actress, has some reservations about her daughter's close relationship with a young man whose name Sybil has not even told her. However, Sybil's mother thinks that the relationship is likely to be a good thing because the young man is certainly wealthy and is probably a member of the aristocracy. Sybil's brother James Vane, himself the illegitimate son of a "highly-connected" gentleman, has a deep-seated hatred for the upper classes. James Vane has found employment as a sailor. He plans to leave the ship when it arrives in Australia and settle there. Before he leaves, he warns his sister to be careful of the man she calls "Prince Charming". James Vane tells Sybil, "if he ever does you any wrong, I shall kill him."
Lord Henry and Basil accompany Dorian to the little theater to watch Sybil Vane perform in Romeo and Juliet Both Basil and Lord Henry think Sybil is very beautiful but find her to be a terrible actress. They both leave the theater at the end of Act III. Dorian stays until the end of the play, although he knows that Sybil is not acting well. When Dorian goes to see Sybil backstage, she admits that she was acting badly. She says that the reason for that was because she was thinking of her true love for Dorian. She no longer has any interest in the false emotions that she used to portray on stage and says that she will never be able to act again. Dorian tells her, "You have killed my love." He explains that, now that Sybil Vane's talent as an actress has gone, he does not want to see her again. Sybil falls sobbing at Dorian's feet. She pleads with him to stay. Dorian, however, ignores her and walks off.
After leaving Sybil Vane, Dorian wanders aimlessly around London for several hours. It is shortly after dawn when he returns home. When he gets home, he notices a change in his portrait. There is now a look of cruelty around the mouth. Dorian notices that there has been no such change in his own face. He then remembers the wish that he made. He realizes that he will remain unchanged and his portrait will show the effects of his worries and sins. He hides the portrait behind a screen. So that the painting will not change any further, Dorian decides to stop seeing Lord Henry. He also plans to apologize to Sybil Vane and marry her.
Dorian does not wake up until the following afternoon. He is only vaguely aware of some terrible thing that happened the night before. He sees a letter from Lord Henry among his mail and chooses not to open it. When Dorian sees the screen, he remembers the change in the picture. He looks at it again and sees that the change really has occurred. He sits down and writes a passionate love letter, begging Sybil Vane to take him back.
Lord Henry arrives. He explains that the letter which he wrote was to tell Dorian about Sybil Vane's sudden death which appears to be suicide. The story of the actress's death is in all the newspapers. Lord Henry adds that he trusts that nobody at the theater knows Dorian Gray's name and he will be spared the scandal of having to take part in the inquest. Dorian worries that he might be heartless because he is not very moved by the news of Sybil's death. He says, "It seems to me to be simply like a wonderful ending to a wonderful play." Lord Henry agrees that there is a beautiful quality to Sybil Vane's death. He says that Dorian should feel flattered that somebody loved him enough to die for him, something that none of Lord Henry's former lovers ever did.
When Dorian Gray says that he was cruel to Sybil, Lord Henry says that women like to be treated cruelly. He then tries to console Dorian by reminding him that he fell in love with Sybil while watching her play tragic heroines from plays such as Othello, Hamlet and King Lear. He can, therefore, imagine her death as just another scene from a play. Lord Henry adds that Dorian would be better off grieving for Shakespeare's heroines rather than Sybil Vane because, "She was less real than they are."
Dorian thinks that Lord Henry has given him good advice. He says of Sybil's death, "It has been a marvelous experience. That is all. I wonder if life has still in store for me anything as marvelous." Lord Henry answers that there will be many more such marvelous experiences in store for Dorian, providing that he stays young and good looking.
After Lord Henry has gone, Dorian looks at his portrait again. He sees no further changes in it. It occurs to him that the mouth may have turned cruel-looking at the moment of Sybil Vane's death. Dorian cannot help feeling sorry for what will happen to the picture. He thinks, however, that it is best that the painting changes instead of he and thinks that it will be interesting to watch.
That evening, Dorian Gray joins Lord Henry and his sister Lady Gwendolen at the operas.
The following morning, Basil Hallward comes over to console Dorian. He is shocked to find out that Dorian is no longer troubled by Sybil Vane's suicide and that he spent the evening at the opera. Dorian does not want to discuss Sybil's death any further. He tells Basil, "You must not tell me about things. What is done is done. What is past is past." Basil comments that Dorian has changed and that it is due to Lord Henry's influence. Dorian agrees with that statement. Not wanting to lose Dorian's friendship, Basil agrees not to talk about Sybil's death again. Before dropping the subject, however, he asks Dorian if his name will come up at the inquest that afternoon. Dorian says that Sybil only knew his first name and only ever referred to him as "Prince Charming" to the other people in her family. Dorian asks Basil to do a drawing of Sybil Vane for him so that he has, "something more of her than the memory of a few kisses and some broken pathetic words."
Basil notices that his portrait of Dorian is behind a screen. He asks to see it. Although he will not give a reason, Dorian says that he will never speak to Basil again if he tries to look at the painting. Basil says that he will need to varnish the picture again before he exhibits it in Paris in October. Dorian remembers that Lord Henry once told him that, for a laugh, he should ask Basil why he would never exhibit a portrait of Dorian. In response to the question, Basil repeats that he felt that he put too much of himself into his portraits of Dorian. He thought that it would be obvious to anyone who saw the picture how much he adored Dorian and how much he was dominated by his personality. Once the recently completed portrait of Dorian left his studio, however, Basil felt certain that other people would not see that in the painting after all. He adds that something seems to have gone out of him now that he has made this confession. Basil asks to see the portrait again. Dorian once more says that Basil can never look at it again. Basil accepts this.
Dorian decides that he can no longer allow the portrait to remain in a room which any of his friends can enter. He covers it with a purple and gold satin cloth. From his housekeeper, Dorian gets the only key to the old schoolroom at the top of the house. Since the picture is heavy, Dorian has the frame-maker Mr. Hubbard and his assistant come over to his house. They help to carry the picture, with the satin cloth still on top of it, to the top of the house. When they get to the old schoolroom, Mr. Hubbard asks if he can look at the picture. Dorian says that it would not interest him and Mr. Hubbard does not ask again.
Not trusting his valet and fearing that the man may try to blackmail him, Dorian tries to make sure that the servant is out of the house while the picture is moved. When Mr. Hubbard and his assistant arrive, Dorian gives his valet a note to take to Lord Henry and tells him to wait for a response. In the note, Dorian reminds Lord Henry that they are having dinner together at 8:15 that evening and asks him to send over something to read. Lord Henry sends over a newspaper with a red pencil mark next to a story about the inquest into Sybil Vane's death. There is nothing in the newspaper story to connect Dorian Gray to the incident, although Dorian still worries that his valet might have read it. Lord Henry also sends over a book bound in yellow paper.
The book which Lord Henry has sent is, "a novel without a plot and with only one character." It is about a 19th-century Frenchman who tries to experience all the "passions and modes of thought" of every previous century. Consequently, he moves from living a life of virtue to a life of vice and enjoys both lifestyles equally. Dorian finds the book fascinating. He reads it by the light of an open window until it is too dark to read any longer. He arrives late for his dinner with Lord Henry as a result. Dorian remains fascinated by the book for many years. He gets nine copies of it and has them bound in different colors to suit his different moods. Dorian identifies strongly with the novel's character, although they are very different in one respect. The novel's character is aware that his beauty is fading and hates to see his own reflection. Dorian Gray remains young, beautiful and innocent-looking.
There are rumors about Dorian Gray which are fueled by his lengthy absences from polite society. He is rumored to have been seen in disreputable taverns, to be the friend of thieves and forgers and to know their craft. Some people shun him, especially women who had once adored him.
Dorian Gray cannot bear to be away from England or even from his London home for very long because he is afraid that someone might find or steal his portrait. He keeps the only key to the old schoolroom at the top of his house where the portrait is stored on him at all times. He has also had bars added to the room's door. Sometimes he goes for weeks without looking at the portrait. He then goes and spends several days away in London's worst slums. When he returns home, he always sits in front of the painting. Sometimes he hates the portrait. Sometimes he takes pride in the fact that he is different from other people and that the portrait suffers in his place. By the time that Dorian is 25, the painting already looks like a very old man with a deeply wrinkled face and coarse bloated hands. The body is bent and the limbs appear to be failing.
On November 9, the eve of his 38th birthday, shortly after eleven o'clock in the evening, Dorian Gray is leaving the home of Lord Henry. He passes a man in an Ulster coat who is carrying a Gladstone bag. Dorian immediately recognizes the man as Basil Hallward but pretends not to have noticed him. Basil, however, sees Dorian and approaches him. He says that he went to Dorian's house at nine o'clock, waited for him for two hours and has just left it. He adds that he is leaving England for six months and taking a 12:15am train to Paris. Basil accompanies Dorian back to his home because he wants to speak to him.
Basil says that, although he finds them hard to believe when he sees Dorian's face which is completely untouched by sin, he has heard many terrible rumors about Dorian. The reputations of many people have been damaged by association with Dorian Gray, including Lord Henry's sister Lady Gwendolen, Sir Henry Ashton and Adrian Singleton. A young soldier who had once been a close friend of Dorian committed suicide. Basil says that his friend Lord Gloucester showed him a letter which was written by his dying wife. The letter implicated Dorian in what Basil calls, "the most terrible confession I have ever read." Basil told Lord Gloucester that it was impossible because he knew Dorian and knew that he was incapable of doing anything like that. Basil says to Dorian that he wonders if he really does know him and that he would need to see his soul to do that. Dorian tells Basil that he can see his soul if he comes upstairs with him. Basil, who has missed his train, agrees.
Dorian leads Basil to the old schoolroom at the top of his house. Declaring that he will show Basil his soul, he removes the purple and gold cloth from his portrait. The ugly old man in the picture is still just recognizable as Dorian Gray. Basil also recognizes the frame in which he placed Dorian's picture. Although he is certain that he never painted such a picture, he recognizes his own brushstrokes and sees his own signature in red letters. Dorian reminds Basil of the wish that he mad on the day that the portrait was completed. Basil says that, if Dorian is speaking the truth, the life that he has led must have been much worse than the worst rumors about him suggest. Having seated himself at the only table in the old schoolroom, Basil urges Dorian to pray for forgiveness.
After having looked at the portrait again, Dorian suddenly feels overcome with hatred for Basil. Taking a knife that he left in the old schoolroom a few days earlier, Dorian repeatedly stabs Basil in the head until he is dead. Dorian leaves the room and locks the door, leaving Basil's dead body inside it. Remembering that Basil was supposed to be leaving on the 12:15am train for Paris and was planning to spend six months abroad, Dorian realizes that it will be months before Basil's disappearance arouses any suspicion. Dorian hides Basil's coat and bag in a secret compartment in his library, planning to destroy them later. To further deflect suspicion, Dorian puts on his coat, goes out and rings his doorbell. When Dorian's valet answers the door, Dorian says that he forgot his key. He asks what time it is. The valet answers that it is 2:10am. Dorian asks if he had any visitors that evening. The valet replies that Basil Hallward came at nine o'clock in the evening, stayed until eleven o'clock and then left.
Before Dorian goes to bed, he finds the address of Alan Campbell in a directory. Alan Campbell is a biologist and chemist and also a gifted amateur musician. He and Dorian Gray bonded over a mutual love of music. They had once been great friends but that friendship came to an end about five years ago. Alan Campbell now avoids contact with Dorian Gray and appears to no longer like music.
The following day, Dorian sends his valet to Alan Campbell's house with a note telling Alan to come over on a matter of life and death. When Alan arrives, Dorian tells him that there is a dead man in the room at the top of the house. He does not say who the man was, he does not know if Alan ever met Basil, and claims at first that the man committed suicide. Dorian wants Alan to use his scientific skill to reduce the dead man and his possessions to ashes. When Alan refuses to help, Dorian confesses to murder and says that he will be hanged if his crime is discovered. Alan still refuses to help. Dorian then says that he has already written a letter which will destroy Alan's reputation and will send it if Alan does not help him. Alan reluctantly gives in to Dorian's demand. Dorian sends his valet back to Alan's house to fetch some chemicals and scientific equipment. The servant is then given the rest of the day off. Dorian leads Alan up to the old schoolroom. Dorian sees the portrait which he left uncovered the night before. There is now blood on one of the hands in the picture. Dorian hastily covers up the picture and leaves the room without looking at Basil's body. Five hours later, Alan Campbell comes downstairs. He tells Dorian that he has done what he was asked to do and that he never wants to see Dorian again. Dorian goes up to the old schoolroom. There is a strong smell of nitric acid but no sign of Basil's corpse.
That evening, Dorian Gray and Lord Henry are both guess at a dinner party. Lord Henry notices that Dorian does not seem to be quite himself. He does not eat anything and drinks more champagne than usual. Lord Henry remarks that Dorian left his house early the previous evening and asks if he went straight home. Dorian replies that he did not. He says that he wandered around about until around 2:30am and does not remember where he went. Dorian makes his excuses and leaves. When he gets home, he burns Basil's coat and bag. Dorian then puts on simple clothes and takes a cab to an opium den by the docks.
In the opium den, Dorian sees Adrian Singleton, one of the young men whose reputation Basil said that Dorian ruined. Not wanting to stay where anybody can recognize him, Dorian leaves the den. As he goes, a woman in the opium den mockingly calls him "Prince Charming". A drowsy sailor perks up at the mention of the name. He is James Vane, Sybil Vane's brother. He follows Dorian Gray to a dim archway, grabs him from behind and points a gun at him. James Vane says that he has been looking for years for the man responsible for his sister's suicide. He had no description of him and only knew him by the nickname which his sister gave him. Dorian asks James Vane when his sister committed suicide. He answers that it was eighteen years ago. Dorian tells James Vane to look at his face by the light of a nearby streetlamp. James Vane sees the face of someone who is barely 20 years-old. He apologizes and lets Dorian go.
A woman approaches James Vane and asks why he let Dorian go. He says that it was because he was not the man he is looking for. The man he is looking for must be nearly 40 years-old, not someone who is "little more than a boy". The woman laughs and says that "Prince Charming" is rumored to have sold himself to the Devil for a pretty face because he looks exactly the same now as he did eighteen years ago. James Vane looks around for Dorian Gray but finds that he has gone.
A week later, Dorian Gray is entertaining guests at his country house in Nottinghamshire. He goes to the conservatory to get orchids for one of his female guests. He faints when he sees the face of James Vane at the window. Thinking about the incident later, Dorian thinks that it is impossible that James Vane could have followed him to Nottinghamshire. James Vane does not know who he is and he persuaded him that he was too young to be responsible for death. He feels troubled, however, by the idea that he could have imagined that James Vane were looking for him. He concludes that he must feel guilty.
A few days later, one of Dorian's guests accidentally shoots and kills a man while hunting. Dorian is deeply troubled by the incident because he takes it to be an omen of death. He decides to leave for London. As he is preparing to leave, his head gamekeeper comes to see him. The head gamekeeper says that the dead man was not a worker on Dorian's estate and that nobody knows who he was. Tattoos on both of the man's arms suggest that he was a sailor. Dorian asks to see the body. It is that of James Vane.
Months pass. Alan Campbell has committed suicide. Basil's disappearance has been noticed and has become a topic of interest in the newspapers. Some people believe that he was murdered. Lord Henry thinks that he probably died in an accident. At Lord Henry's house one evening, Dorian asks, "What would you say, Harry, if I told you that I murdered Basil?" Lord Henry replies by expressing his disbelief. He says that crime is exclusive to the lower classes and that Dorian would never do something so vulgar.
Dorian tells Lord Henry that he wants to be good and that he is changing his ways. He says that he recently stayed in a village and fell in love with a simple country girl there named Hetty Merton. He was going to get her to run away with him but then saved her by telling her not to go off with him after all. Lord Henry does not believe that Dorian's action was motivated by a desire to do good. He thinks it is more likely that Dorian was just seeking a new sensation. He adds that, after having known Dorian, Hetty will not be content when she eventually marries someone of her own class and that it is possible that Hetty might have committed suicide out of a broken heart.
Wondering if saving Hetty Merton might have altered his portrait, Dorian looks at it again. It still looks old and ugly and now also looks like a hypocrite. Dorian realizes that Lord Henry was right and that he had not done any real good by leaving Hetty. Dorian also notices that fresh blood stains now cover both of the portrait's hands and that the blood has dripped from them onto the feet. He wonders why he is still troubled by Basil's murder. He thinks about confessing to it to the police but does not think that he would be believed because all the evidence was destroyed. It occurs to him that the painting is evidence. He decides to get rid of it. He picks up the same knife which he used to murder Basil and stabs at the picture.
A scream is heard. When Dorian Gray's servants finally gain entrance to the old schoolroom, they see a beautiful portrait of their young and handsome master. Lying dead on the floor is an ugly old man with a knife in his heart. The servants are only able to identify the old man as Dorian Gray by the rings on his fingers.
Adapatations
Movie adaptations of The Picture of Dorian Gray include Dorian Grays Portræt (Denmark 1910), The Picture of Dorian Gray (USA 1913),The Picture of Dorian Gray (USA 1915), The Picture of Dorian Gray (USA 1916), Das Bildinis des Dorian Gray (Germany 1917), Az Élet királya (Hungary 1918),[3] The Picture of Dorian Gray (USA 1945), Dorian Gray (Italy/UK/West Germany 1970), Le Portrait de Dorian Gray (France 1977), Pact with the Devil (Canada/UK 2001), The League of Extraordinary Gentlemen (USA 2003), The Picture of Dorian Gray (USA 2004), Dorian (USA 2005), The Picture of Dorian Gray (USA 2007) and Dorian Gray (UK 2009).
The Picture of Dorian Gray has been adapted for British television as an episode of Armchair Theatre (which first aired on the ITV network on January 22, 1961) and as an episode of Play of the Month (which first aired on BBC1 on September 19, 1976). It has been adapted for American television as an episode of Tales of Tomorrow (which first aired on ABC on January 23, 1953), as an episode of Golden Showcase (which first aired on CBS on December 6, 1961) and as an ABC Movie of the Week (which first aired on April 23, 1973). The TV movie The Sins of Dorian Gray is a modernized and Americanized adaptation of The Picture of Dorian Gray. It stars Belinda Bauer as a female Dorian Gray and Anthony Perkins as Henry Lord. It was first shown on ABC on May 27, 1983. The Picture of Dorian Gray was adapted for Canadian television as an episode of Encounter which was first broadcast on CBC on October 23, 1954. El retrato de Dorian Gray, a Mexican TV series based on the novel, aired on Telesistema Mexicano in 1969. Dorian Gray (played by Reeve Carney) is a recurring character in the British-American TV series Penny Dreadful, which originally aired on Showtime in the United States and on Sky Atlantic in the United Kingdom between 2014 and 2016.
The novel was adapted for American radio as an episode of the CBS series Stage Series in 1950 and as an episode of the ABC series Mystery Time, starring Laurence Olivier as Lord Henry Wotton, in 1957. An episode of CBS Radio Mystery Theater based on The Picture of Dorian Gray first aired on August 7, 1974. A two-part British radio play adapted from the novel, starring Ian McDiarmind as Lord Henry Wotton and Jamie Glover as Dorian Gray was broadcast on BBC Radio 7 (now known as BBC Radio 4 Extra) on December 6 and December 7, 2007.
Will Self's 2002 novel Dorian, an Imitation (ISBN 0670889962) is a retelling of Wilde's story in which the setting is updated from Victorian times to England between the years 1981 and 1997. It is a reworking of a screenplay which Self wrote for a movie adaptation of The Picture of Dorian Gray that was never made. Karl Lagerfeld's 2005 book A Portrait of Dorian Gray (ISBN 3865210155) interprets Wilde's novel as a series of photographs.
The Picture of Dorian Gray has been adapted for the stage as a straight play, a musical, an opera and a contemporary dance performance. There have also been numerous audiobook, comic book and graphic novel adaptations of the work.
See also
Footnotes
↑ Joseph M. Stoddart, the managing editor of Lippicott's Monthly Magazine, wanted to set up a British version of the publication with a British editor and British contributors. To that end, he traveled to Britain in 1889. On August 30, 1889, Stoddart had dinner at the Langham Hotel, London with Oscar Wilde and Sir Arthur Conan Doyle. He commissioned stories from both writers to appear in his magazine. Doyle's story, The Sign of the Four, was published in the February 1890 issue of Lippincott's Monthly Magazine. Wilde's story, The Picture of Dorian Gray, was published in the July 1890 issue. A commemorative plaque outside the Langham Hotel now states that a meeting there brought about the creation of the two novels.
↑ The first recorded use of the phrase "Prince Charming" in English is in The Picture of Dorian Gray. There is, however, a character named Charming in Andrew Lang's 1889 anthology of folktales for children The Blue Fairy Book. It is highly likely that "Prince Charming" was already in use in spoken English as a name for fairy tale characters before the publication of The Picture of Dorian Gray, especially since the application of the name to Dorian turns out to be ironic.
External links
Community content is available under
CC-BY-SA
unless otherwise noted.