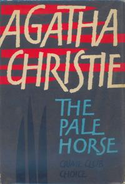 The Pale Horse is a novel by mystery author Agatha Christie, first published in 1961.
Plot
The main character in the novel is a writer named Mark Eastenbrook. He is told by James Corrigan that a girl died. Before dying, she called for a priest and confessed her sins. The priest knows a secret about an "iniquity" and he makes a list of some names that the girl, Ms. Davis, tells him. He is brutally killed but the list is found by the police inside his shoes. The detective believes this list to be people who will die.
He is invited to a party in Much Deeping and he is introduced to an old man: Venables. They talk about Pale Horse, a mysterious villa where three supposed witches live. He is invited to go there and meets them: Thyrza, a self-named witch; Sybil, a medium and Bella, a woman who sacrifices white cocks.
Mark is amazed at the ladies and Thyrza tells him that a person can be killed remotely by means of black magic. He does not believe it but he is astonished. Later, he finds that some people on the list die, of natural causes. He starts to investigate along with Katherine Corrigan, who is also on the list.
External links
Community content is available under
CC-BY-SA
unless otherwise noted.