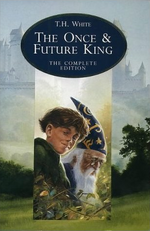 The Once and Future King is a 1958 fantasy novel by T.H. White based on Arthurian legend. It is the fictional, magical story of how King Arthur was raised, how he met Merlin and how he became king. The novel consists of four parts: the Sword in the Stone, the Queen of Air and Darkness, the Ill-Made Knight, and the Candle in the Wind.
External links

This article is a stub. You can help the Literawiki by expanding it.
Community content is available under
CC-BY-SA
unless otherwise noted.