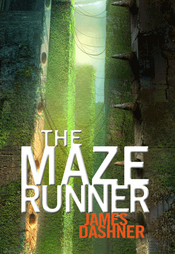 The Maze Runner is the first book in a dystopian, science fiction, thriller series by James Dashner written primarily for a young readership. The novel was published October 2009.
The next book in the series is The Scorch Trials.
A film based on the novel was released in 2014.
Introduction
Thomas wakes up in a metal box or elevator in the dark. He cannot remember anything of his own life except his name. When the box finishes ascending and opens to sunlight, he meets other boys in "The Glade" who also have lost their memories. In the absence of their memories and adults, the boys have formed their own society. The next day, in a major innovation, a girl appears.
Awards
2011-2012 Tennessee Volunteer State Book Award in the Young Adult Division
2011-2012 Florida Teens Read! Award
2012 New York State Reading Association's Charlotte Award
Comparisons
Various reviews have compared this book to The Lord of the Flies, The Hunger Games and the TV series Lost'
External links
Community content is available under
CC-BY-SA
unless otherwise noted.