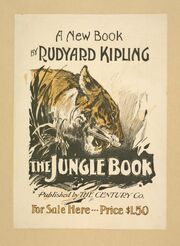 The Jungle Book is a collection of short stories and poems by the British author Rudyard Kipling. The book was first published in 1894 with illustrations by John Lockwood Kipling, the author's father.
Kipling wrote the stories for his first child Josephine who was born in 1893. All seven stories in the collection feature talking animal characters, and the first three stories feature Mowgli, a boy raised by wolves in the Indian jungle. All but one ("The White Seal") of the stories are set in India. Additional stories and poems, including five more Mowgli stories, are collected in The Second Jungle Book (1895).
Stories from The Jungle Book have been adapted to other media many times. Most adaptations which reference the book title, including the 1967 Disney animated film, are based on the popular Mowgli stories.
Contents
"Hunting-Song of the Seeonee Pack" (verse)
"Road-Song of the Bandar-Log" (verse)
"Mowgli's Song" (verse)
"Lukannon" (verse)
"Darzee's Chant" (verse)
"Toomai of the Elephants"
"Shiv and the Grasshopper" (verse)
"Her Majesty's Servants"
"Parade Song of the Camp Animals" (verse)
See also
External links
Free public domain audiobooks of The Jungle Book from LibriVox:
Community content is available under
CC-BY-SA
unless otherwise noted.