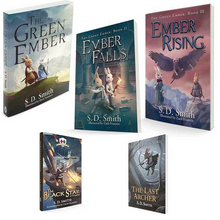 The Green Ember series is an ongoing children's fantasy series written by S. D. Smith, illustrated by Zach Franzen, and published by Story Warren, LLC.
It is set in the fantasy world of Natalia, where the good King Jupiter's heirs fight for freedom against the evil Birds of Prey who rule the good rabbits of Natalia in tyranny and terror.
The series is currently composed of three main series books and two anthology books. The main series follows the adventures of Picket and Heather Longtreader, ordinary rabbits who are suddenly caught up in extraordinary events and find themselves fighting for the reinstallment of King Jupiter's heirs as the rightful king and queen of Natalia against the tyrannical Birds of Prey and Morbin Blackhawk.
Books
Main series
Anthology books
External links