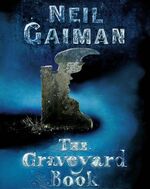 The Graveyard Book is a children's fantasy novel by Neil Gaiman which was first published in 2008. It won the 2009 Hugo Award for Best Novel, the Newbery Medal, the Locus Award for Best Young Adult Book and the 2010 Carnegie Medal.
Plot
The novel is about a boy named Nobody Owens who is raised by the inhabitants of a graveyard after his parents are murdered by a character known as Jack.
The murder took place in Nobody's home, when he was a toddler. After Jack killed his parents, the small boy climbed out of his crib and went exploring. He wound up in a graveyard where a group of ghosts agreed to take care of him. They named him Nobody because "he looked like nobody but himself".
Generally, Nobody lives a peaceful existence with his friend Scarlett, and his ghoulish family, until he realizes that Jack is still out to get him.
Movie adaptation
Filmmaker Neil Jordan has signed on to write a film adaptation of The Graveyard Book. Henry Sellick, the director of the film, Coraline, which was based on a book by Neil Gaiman, will be directing the film. As a result, it's likely that The Graveyard Bookfilm will be done in stop-motion animation.
Community content is available under
CC-BY-SA
unless otherwise noted.