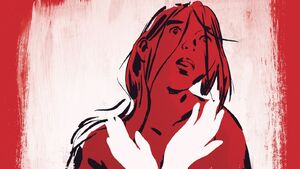 "The Girl Without Hands" (German: "Das Mädchen ohne Hände"; also published in English as "The Armless Maiden", "The Girl with Silver Hands' and "The Handless Maiden") is a German fairy tale. It is included in Kinder- und Hausmärchen (Children's and Household Tales) the 1812 anthology of German folktales compiled by the Brothers Grimm.
The story's title character and protagonist is unwittingly sold to the Devil by her father. In order to prevent the Devil from taking him instead of his daughter, the young woman's father reluctantly chops off her hands. Although the young woman escapes the Devil's clutches and marries a king, she has to suffer further hardships before she is finally allowed to live happily ever after.
"The Girl Without Hands" as told by the Brothers Grimm has provided a source of inspiration for other writers and has been adapted to other media.
Plot
Adaptations
See also
External links
Community content is available under
CC-BY-SA
unless otherwise noted.