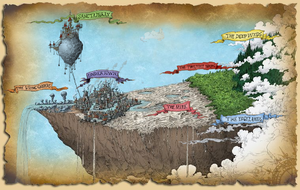 The Edge Chronicles are young-adult fantasy novels by Paul Stewart and Chris Riddell. Originally from the United Kingdom, the series was also published in the United States, Canada and Australia. The series was translated into German, French and some more languages and more than three million copies of the novels have been sold worldwide.
The beautifully detailed and sometimes surprisingly gruesome illustrations by Chris Riddell are a vital part of the books. Together with the many small details that often unexpectantly reoccur they really make the turbulent Edgeworld that is rich with extraordinary characters, creatures and landscapes far from the reaches of the imagination come alive.
The Edge Chronicles
Although each book is a stand-alone adventure, they consist of four Sagas and several extra books.
Quint Trilogy: The Curse of the Gloamglozer • The Winter Knights • Clash of the Sky Galleons
Twig Trilogy: Beyond the Deepwoods • Stormchaser • Midnight Over Sanctaphrax
Rook Trilogy: The Last of the Sky Pirates • Vox • Freeglader
Cade Trilogy: The Nameless One • Doombringer • The Descenders (2018)
Other Books: The Edge Chronicles Maps • The Lost Barkscrolls • Weird New Worlds • The Sky Chart
Plot
The Edge Chronicles tell tales from the Edgeworld. The Quint Saga follows the young Quintinius Verginix, a sky pirate's son on his adventures when he moves to the floating city of Sanctaphrax in the First Age of Flight. In the Twig Saga, Twig, the son of Quint, who was raised by woodtrolls in the Deepwoods has to find his place in the Edgeworld. In the Second Age of Flight, Rook, a descendant of Twig, is chosen as a Librarian Knight to explore the Deepwoods.
The Immortals tells the story of Nate Quarter who together with the Immortals Quint, Twig and Rook fights the Gloamglozer in the Third Age of Flight. The Immortals was meant to be the last book of the series, but the authors' blog, Weird New Worlds, evolved into the Cade Saga, the story of Cade.
External links