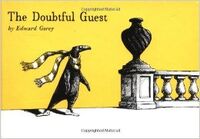 The Doubtful Guest (ISBN 978-0-15-100313-6) is an illustrated book by the American author and artist Edward Gorey. It was first published in 1957. The story can also be found in Amphigorey (ISBN 978-0-39-950433-4), the first of four omnibus editions of Gorey's works.
Written in rhyming couplets (each accompanied by a humorous drawing depicting a penguin-like creature and an Edwardian family), the whimsical story is one of the most popular works by the author. The Doubtful Guest is appropriate for all ages.
Synopsis
On a wild winter night, a peculiar-looking creature runs into an Edwardian manor. It stands facing a wall and will not respond at all, so the family gives up and goes to bed. The next morning, the uninvited guest joins the family at breakfast and eats, among other things, part of a plate. The family seems to just accept the creature despite its mischievous behavior, annoying habits, and rather temperamental nature, and the doubtful guest simply stays on.
Review
Although appropriate for young readers, The Doubtful Guest is not just for children. There is vintage Gorey humor in the rather nonsensical story, albeit without the macabre, and the rhyming verses are delightfully irrelevant ("It was subject to fits of bewildering wrath, / During which it would hide all the towels from the bath."). The pen-and-ink drawings are equally humorous and amusingly mix the everyday with the absurd. Anyone with a fondness for nonsense verse or quirky humor should find The Doubtful Guest an endearing little book.
Gracie A. 10 July 2014
Community content is available under
CC-BY-SA
unless otherwise noted.