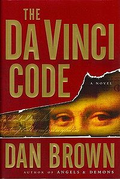 The Da Vinci Code is a 2003 mystery-detective novel written by American author Dan Brown. It was published by the Doubleday Group in the United States and Bantam Books in the United Kingdom. The Da Vinci Code won Book Sense's 2004 Book of the Year Award in the Adult Fiction Category.
The novel is about the possibility of Jesus having being married to Mary Magdalene. Secret societies and conspiracy theories form a major part of the narrative.
Related works

This article is a stub. You can help the Literawiki by expanding it.
Community content is available under
CC-BY-SA
unless otherwise noted.