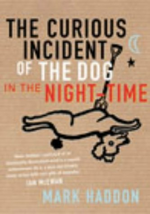 The Curious Incident of the Dog in the Night-Time is a mystery novel by Mark Haddon which was first published in 2003. It won the 2003 Whitbread Book of the Year Award and the 2004 Commonwealth Writers' Prize for Best First Book. The title of the book is taken from "Silver Blaze," a Sherlock Holmes short story by Sir Arthur Conan Doyle.
The novel is told from the first person point of view of a 15 year old young man with Asperger's Syndrome. The book provides an entry into a difficult time from an unusual world view. It reminds the reader of the emotional and social understanding that we bring to our interactions.
The protagonist of the story, Christopher John Francis Boone, is very intelligent but finds people confusing. He has difficulties interpreting body language, and he does not understand jokes or metaphors. He likes dogs because they are easy to understand and also because they do not tell lies. So when he finds Mrs. Shears' poodle Wellington lying dead on her lawn, he decides to investigate. Reasoning that someone meant to hurt Mrs. Shears by killing her dog, Christopher decides that his prime suspect is Mr. Shears who left his wife two years earlier. His investigation into Mr. Shears takes an unexpected turn, however, and he begins to discover surprising things about his dead mother.
The Curious Incident of the Dog in the Night-Time was adapted for the stage by Simon Stephens. The play premiered in London at the Royal National Theatre in August 2012 to warm reception. The Broadway production, which opened in October 2014, won the 2015 Tony Award for Best Play.
Community content is available under
CC-BY-SA
unless otherwise noted.