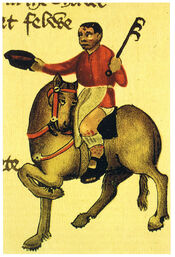 "The Cook's Tale" (Middle English: "The Cokes Tale") is an unfinished short story in verse from The Canterbury Tales by Geoffrey Chaucer. It is unknown whether Chaucer simply left the tale unfinished at the time of his death, lost interest in it, intended to replace it with a different story for the Cook which was never written or deliberately left the story unfinished. It is possible that one of the other pilgrims is supposed to be interrupting the Cook and preventing him from completing his crude tale.
Summary
The tale's protagonist is a handsome young apprentince named Perkyn (or Perkin) who has a dark complexion and curly hair. Perkyn enjoys going to weddings, singing and dancing, for which reason he is known as Perkyn Revelour (Perkin the Reveler). He also enjoys gambling at dice with his friends.
Perkyn's love of gambling leads him to steal money from the shop where he works. As a result, he loses his job. He then spends all day amusing himself with his friends.
It is said that Perkyn has an accomplice who helps him to steal. His accomplice has a wife who runs a shop but really makes a living as a prostitute.
At that point, the story abruptly ends.
Movie adaptation
The fourth segment of the 1972 Italian movie I Racconti di Canterbury (The Canterbury Tales) by Pier Paolo Pasolini is based on "The Cook's Tale".[1] In the film, "The Cook's Tale" is turned into a tribute to Charlie Chaplin. Italian actor Ninetto Davoli plays Perkyn, who is depicted wearing a costume which strongly resembles a medieval version of that of Chaplin's Tramp character.
Chaucer's unfinished tale is fleshed out slightly in the movie. After losing his job, Perkyn goes to a wedding to cheer himself up. He dances with the bride and makes the wedding cake go flying through the air before it lands on the groom's head. The following day, he begins a new job as apprentice to an egg merchant but loses it when he leaves the stall to play dice with his friends. After he is fired, he smashes all the merchant's eggs out of spite. Perkyn spends the night with his friend and his wife the prostitute. The next morning, Perkyn is arrested and put in the stocks.
Footnotes
↑ Other segments in the film are based on the "General Prologue', "The Merchant's Tale', "The Friar's Tale", "The Miller's Tale", "The Wife of Bath's Prologue", ""The Reeve's Tale", "The Pardoner's Tale" and "The Summoner's Tale".
External links
Community content is available under
CC-BY-SA
unless otherwise noted.