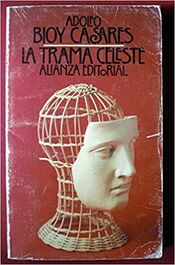 The Celestial Plot (Spanish: La trama celeste) is a book by the Argentine author Adolfo Bioy Casares. It is a collection of short stories. The title of one of the stories is the same as that of the collection.
Contents
De los reyes futuros
"La trama celeste"
El otro laberinto
El perjurio de la nieve
"La trama celeste" short story
A soldier must pilot a new plane. He suffers an accident and is injured. He is interrogated and the army does not believe he is from Argentina. They mistake him for a spy. He calls his friends but nobody recognizes him. He cannot explain the situation, but a friend of his, the author, helps him. The author discovers the truth: he has travelled to a parallel universe, a little different from this one.
Community content is available under
CC-BY-SA
unless otherwise noted.