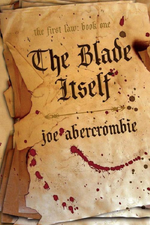 The Blade Itself is the first novel in the First Law trilogy, written by Joe Abercrombie and published in 2006 by Gollancz.
Plot
The Blade Itself takes place in the Union, a kingdom reminiscent of Western Europe during the Middle Ages. In addition to its own government's corruption and internal squabbles, the Union must deal with brewing wars on two fronts: to the South, the Gurkish Empire prepares for a siege, and in the North, the self-proclaimed King of the Northmen makes ready for a full-scale invasion.
During this turbulent time, The Blade Itself follows the lives of three very different protagonists:
Logen Ninefingers, the most feared man in all the North, a pragmatic barbarian who has lost the wish to fight,
Sand dan Glokta, a Union torturer, once tortured and crippled himself,
Jezal dan Luthar, a shallow, self-absorbed, arrogant nobleman in the Union army.
Their paths intertwine with Bayaz', a powerful mage who has an agenda of his own...
Related books
The other books in the First Law trilogy are:
The following stand-alone novels are also set in the First Law universe:
External links
Community content is available under
CC-BY-SA
unless otherwise noted.