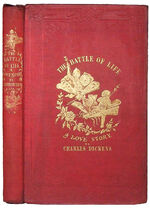 The Battle of Life: A Love Story is a romantic novella by Charles Dickens that was first published in 1846. It is the fourth of Dickens' five Christmas Books, the first and best known of which is A Christmas Carol. It is the only one of Dickens' Christmas Books that does not feature any ghosts or supernatural beings of any kind . Unlike in A Christmas Carol and The Chimes, social commentary does not form an important part of the novella.
The action takes place in an English village which many years earlier had been the site of a battle. Some of the characters in the story compare life's struggles to the historic battle, giving the novella its name. In common with Dickens' previous Christmas Book, The Cricket on the Hearth, the story ends with a romantic twist.
The Battle of Life is one of Dickens' lesser known works and has never achieved a great deal of popularity in the English-speaking world. However, the title is familiar to many speakers of the constructed language Esperanto because it was one of the first literary works to be translated into the language. The translation, La batalo de l' vivo, by Ludovic Lazarus Zamenhof, the creator of the language, was first publshed in 1891. Zamenhof intended to show through his translation of a book by Dickens that the new language could be used for literary expression.
See also
External links
Community content is available under
CC-BY-SA
unless otherwise noted.