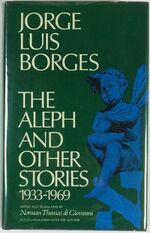 The Aleph (Spanish: El Aleph) is a collection of short stories by the Argentinian author Jorge Luis Borges. It was first published in 1949. A revised edition was published in 1974. The book is named after one of the short stories found within it.
Contents of the book
The stories in the book deal with the human condition, time and infinity. The short stories in The Aleph are listed below in Spanish. The names may vary in different English translations:
"El inmortal": Marco Flaminio dreams about a mysterious river
"El muerto": about Argentinian history
"La cas de Asterion"
"Historia del guerrero y de la cautiva"
"Biografía de Tadeo Isidoro Cruz": about Martín Fierro
"Emma Zunz": tragical story about a girl dominated by her destiny
"La otra muerte": the story of Damián
"Deutsches requiem": history of Germany
"La busca de Averroes": about Muslim Cordoba (Spain)
"El zahir"
"La escritura del Dios"
"Abenjacán el Bojari"
"El hombre en el umbral"
"El Aleph"
Community content is available under
CC-BY-SA
unless otherwise noted.