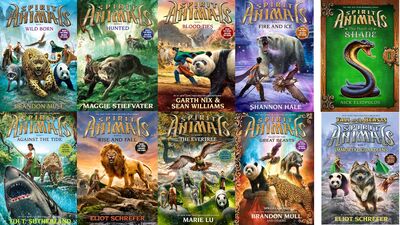 The Spirit Animals series is a series of children's fantasy novels published by Scholastics, which follows the adventures of four children living in a world called Erdas. The series is split up into two series: the main one, and Fall of the Beasts, and has three special editions. It is a multi-author series, the authors that have contributed so far are Brandon Mull, Maggie Stiefvater, Garth Nix, Sean Williams, Shannon Hale, Tui T. Sutherland, Eliot Schrefer, Marie Lu, Victoria Schwab, Varian Johnson, Jonathan Auxier, and Sarah Prineas. The cover illustrations are by Angelo Rinaldi.
Books 
Original series
Wild Born (Brandon Mull)
Hunted (Maggie Stiefvater)
Blood Ties (Garth Nix and Sean Williams)
Fire and Ice (Shannon Hale)
Against the Tide (Tui T. Sutherland)
Rise and Fall (Eliot Schrefer)
The Evertree (Marie Lu)
Second series 
Immortal Guardians (Eliot Schrefer)
Broken Ground (Victoria Schwab)
The Return (Varian Johnson)
The Burning Tide (Jonathan Auxier)
Heart of the Land (Sarah Prineas)
The Wildcat's Claw (Varian Johnson)
Stormspeaker (Christina Diaz Gonzalez)
The Dragon's Eye (Sarwat Chadda)
Special editions 
Tales of the Great Beasts (Brandon Mull, Nick Eliopulos, Billy Merrell, Gavin Brown, and Emily Seif)
The Book of Shane (Tui T. Sutherland, Nick Eliopulos)
Tales of the Fallen Beasts (Brandon Mull, Emily Seife, Nick Eliopulos, Gavin Brown, and Billy Merrell)
External links
Community content is available under
CC-BY-SA
unless otherwise noted.