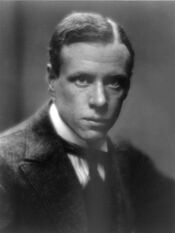 Sinclair Lewis (February 7, 1885-January 10, 1951) was the winner of Nobel Prize for Literature in 1930. He was the first American to win the prize[1] He wrote novels, short stories, and plays.
Partial bibliography
Novels
Babbit, 1922
Arrowsmith, 1925
It Can't Happen Here, 1935, turned into a play in 1936 (with John C. Moffitt)
References
External links

This article is a stub. You can help the Literawiki by expanding it.
Community content is available under
CC-BY-SA
unless otherwise noted.