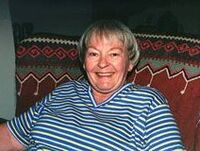 Sheri Stewart Tepper (July 16, 1929 - October 22, 2016) was an American science fiction, horror, and mystery author. For most of her career (1962-1986) she worked for Rocky Mountain Planned Parenthood, where she eventually became executive director.
Tepper has used a number of pseudonyms, including A. J. Orde, E. E. Horlak, and B. J. Oliphant. Her early work was published under the name Sheri S. Eberhart.
Works
Novels
Series
The True Game (a trilogy of trilogies)

The Books of the True Game: Peter

King's Blood Four (1983)
Necromancer's Nine (1983)
Wizard's Eleven (1984)

The Books of the True Game: Mavin Manyshaped

The Song of Mavin Manyshaped (1985)
The Flight of Mavin Manyshaped (1985)
The Search for Mavin Manyshaped (1985)

The Books of the True Game: Jinian

Jinian Footseer (1985)
Dervish Daughter (1986)
Jinian Star-Eye (1986)
The Marianne Trilogy

Marianne, the Magus, and the Manticore (1985)
Marianne, the Madame, and the Momentary Gods (1988)
Marianne, the Matchbox, and the Malachite Mouse (1989)
Ettison Duo

Blood Heritage (1986)
The Bones (1987)
The Awakeners:

NorthShore (1987)
SouthShore (1987)
The Arbai Trilogy

Grass (1989)
Raising the Stones (1990)
Sideshow (1992)
Stand alone novels
The Revenants (1984)
After Long Silence (1987)
The Gate to Women's Country (1988)
Beauty (1991)
A Plague of Angels (1993)
Shadow's End (1994)
Gibbon's Decline & Fall (1996)
Family Tree (1997)
Six Moon Dance (1998)
Singer from the Sea (1999)
The Fresco (2000)
The Visitor (2002)
The Companions (2003)
The Margarets (2007)
Short stories
"The Gardener" (1988)
"Someone Like You" (1990)
The "Crazy" Carol Stories

"The Gazebo" (October 1990)
Raccoon Music" (February 1991)
"The Gourmet" (October/November 1991)
Pseudonymous works
as E. E. Horlak (horror):
as B. J. Oliphant (mystery):

Shirley McClintock Mysteries:

Dead in the Scrub (1990)
The Unexpected Corpse (1990)
Deservedly Dead (1992)
Death and the Delinquent (1993)
Death Served Up Cold (1994)
A Ceremonial Death (1996)
Here's to the Newly Deads (1997)

as A. J. Orde (mystery):

The Jason Lynx Mysteries (mysteries featuring a Colorado antiques dealer and his SO, a female cop):

A Little Neighborhood Murder: A Jason Lynx Novel (1989)
Death and the Dogwalker: A Jason Lynx Novel (1990)
Death for Old Time's Sake: A Jason Lynx Novel (1992)
Looking for the Aardvark (1993)
A Long Time Dead (1994)
A Death of Innocents: A Jason Lynx Novel (1996, 1997)
External links
Community content is available under
CC-BY-SA
unless otherwise noted.