Jurassic World: Dominion Dominates Fandom Wikis - The Loop
Play Sound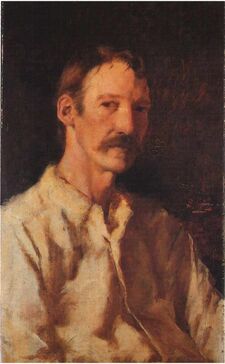 Robert Louis Stevenson, born Robert Lewis Balfour Stevenson, (November 13, 1850 - December 3, 1894) was a Scottish author who wrote for adults and children. His writings include novels, novellas, short stories, poems, essays and non-fiction accounts of his travels. His best known works are the children's adventure novel Treasure Island and the horror story Strange Case of Dr. Jekyll and Mr. Hyde.
For most of his life, Stevenson suffered from ill health. It was believed during his lifetime that he suffered from tuberculosis but this has been disputed by modern researchers. In search of a suitable climate in which to live for the good of his health, Stevenson spent time in France, the United States, Hawaii, Tahiti and New Zealand. He eventually settled in Samoa, where he spent the final four years of his life.
Works
Dates in brackets are year of first publication. Some of Stevenson's works were first published after his death.
Novels and novellas
Treasure Island (1883)
Prince Otto (1885)
Kidnapped (1886)
The Black Arrow (1888)
The Master of Ballantine (1889)
The Wrong Box (1889)
The Wrecker (1892)
Catriona (1893)
The Ebb-Tide (1894)
Weir of Hermiston (unfinished) (1896)
St. Ives (unfinished) (1896)
Collected short stories
The Merry Men and Other Tales and Fables (1887), containing the short stories "The Merry Men", "Will o' the Mill", "Markheim", "Thrawn Janet", "Olalla" and "The Treasure of Franchard"
New Arabian Nights (1892)
More New Arabian Nights: The Dynamiter (1893)
Island Nights' Entertainments (1893), also known as South Sea Tales, containing the short stories "The Beach of Falesa", "The Bottle Imp" and "The Isle of Voices"
Fables (1896)
Tales and Fantasies (1905), published posthumously, containing the short stories "The Misadventures of John Nicholson", "The Body Snatcher", and "The Story of a Lie"
Volumes of poetry
A Child's Garden of Verses (1885)
Underwoods (1887)
Ticonderoga: A legend of the West Highlands (1887)
Ballads (1891)
Songs of Travel and Other Verses (1896)
Travel writings
An Inland Voyage (1878)
Travels with a Donkey in the Cevennes (1879)
The Old and New Pacific Capitals (1882)
The silverado Squatters (1883)
Across the Plains (1892)
The Amateur Emigrant (1895)
Essays of Travel (1905)
External links