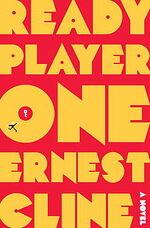 Ready Player One is a science fiction novel by the American author Ernest Cline. It was first published on August 16, 2011.
Plot
The year is 2044, and Wade Watson escapes the grim reality of Earth by entering a virtual utopia called OASIS. Within OASIS, there is a puzzle that will offer fortune and fame to the person who unlocks them and gets the secret prize. Unfortunately, there are other players who will resort to murder to get to the prize before Wade.
Adaptations
A feature film based on Ready Player One was first shown at the South by Southwest film festival in Austin, Texas on March 11, 2018. It was released nationally in the United States on March 29, 2018. It stars the American actor Tye Sheridan and the British actress Olivia Cooke. It was directed by Steven Spielberg.
External links