Jurassic World: Dominion Dominates Fandom Wikis - The Loop
Play Sound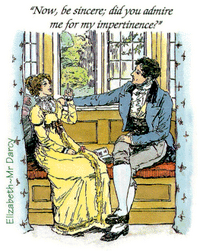 Probably the most famous of Jane Austen's novels, Pride and Prejudice is about relationships in the upper classes of England in the early 1800s. Austen brings a dry sense of humor to the story, making it an early comedy of manners.
The terms in the title refer to attitudes influencing the primary character's actions.
Prejudice does not refer to racial discrimination. It refers to bias without good basis.
In a society where a woman's rank in society was almost solely based on her father or husband's rank, the acquisition of a husband (of the best possible status) was a primary goal for a young woman. And in the case of the Bennet family with five daughters and an entailed estate, it is the most important desire of Mrs. Bennet to see her daughters well married.
(An entailed estate cannot be willed as the owner desires; the inheritance must follow a determined path. In the case of Mr. Bennet's death, the principle he inherited must pass to the nearest male relative upon his death. As a result, his family will depend on the money of the husbands of the five daughters.)
Quote


IT is a truth universally acknowledged, that a single man in possession of a good fortune must be in want of a wife.
-- the opening line of the book
Main characters
Mr. Bennet
Mrs. Bennet
Miss Jane Bennet
Miss Elizabeth Bennet
Miss Mary Bennet
Miss Kitty Bennet
Miss Lydia Bennet
Mr. Collins (their cousin, on whom the estate is entailed)
Mrs. Philips (Mrs. Bennet's sister)
Mr. Gardiner (Mrs. Bennet's brother)
Mrs. Gardiner
Mr. Fitzwilliam Darcy
Miss Georgiana Darcy
Colonel Fitzwilliam
Mr. Charles Bingley
Miss Caroline Bingley
Mrs. Hurst (Mr. Bingley's other sister)
Mr. Hurst
Mr. George Wickham
Sir William Lucas (a neighbor)
Lady Lucas
Charlotte Lucas (Elizabeth's closest friend)
Maria Lucas
Mrs. Long
Colonel Forster
Mrs. Forster
Lady Catherine de Bourgh
Miss Anne de Bourgh
Pride and Prejudice has inspired many sequels and alternative versions. One of the oddest may be the parody, Pride and Prejudice and Zombies. At least 40 different authors have written books that are related -- sequels, adaptions, the story from a different character's perspective.[1]
Related
References
External links