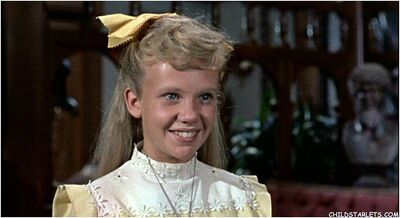 'Pollyanna is a children's novel of thirty-two chapters by the American author Eleanor H. Porter. It was originally serialized in The Christian Herald in 1912 and 1913. It was first published in book form in 1913.
The action takes place in the fictional town of Beldingsville, Vermont. The novel's title character and protagonist is an eleven-year-old orphan girl who has been taught to always find something to be glad about, even in the worst of circumstances. The plot is set in motion when, following the death of her father, Pollyanna is sent to live with her closest living relative, her late mother's sister and a woman whom she has never met, Miss Polly Harrington. Miss Polly Harrington is a wealthy woman who has a reputation for being cold. Her servants find her to be an extremely demanding employer. She agrees to take care of Pollyanna because she prides herself on always doing what is morally right. She does not, however, take any joy in the idea of allowing a child to come into her house or her life. She initially does very little to make her niece feel welcome or comfortable in her new home. Pollyanna, however, always sees the best in everybody and cannot help loving her Aunt Polly from the start. Pollyanna's cheerfulness and her desire to make everybody around her as happy as possible have a positive impact on all of the people with whom she comes into contact. In particular, Pollyanna changes for the better the lives of Miss Polly Harrington's maid Nancy, the bedridden invalid Mrs. Snow and her daughter Milly, the sad and lonely Dr. Thomas Chilton, the orphan boy Jimmy Bean and Mr. John Pendleton, a very wealthy man who has a reputation for being a miser and a recluse. Miss Polly Harrington also gradually softens in her attitude towards Pollyanna. It is only however, when Pollyanna suffers an accident that leaves her with life changing injuries that Miss Polly Harrington realizes how much she truly loves her niece and tries to make the unhappy girl feel glad again.
A stage adaptation of Pollyanna was first performed in 1915. The first screen adaptation of the story, an American silent movie starring Mary Pickford, was released in 1920. The novel has been adapted for the screen several times since then The best known of those adaptations continues to be the 1960 live-action film from Walt Disney Productions Pollyanna starring Hayley Mills.
Eleanor H. Porter wrote a sequel to the novel, Pollyanna Grows Up, that was first published in 1915. A further fifteen sequels to Pollyanna, written by other authors, were first published between 1924 and 1997.
The word "pollyanna" has entered the English language to refer to somebody who is always cheerful or optimistic. It is often used disparagingly to refer to someone who continues to be cheerful and optimistic in situations when most people would see no good reason to be so. The Pollyanna principle is a psychological term, first used in 1978, that refers to people's tendency to remember pleasant things better than unpleasant ones.
Plot
Pollyanna Whittier is a girl who spends much of her childhood living in a poverty. She is the only surviving child of a clergyman, the Reverend John Whittier, and his wife Jennie. She is named after her mother's two sisters, Polly and Anna, only one of whom, Miss Polly Harrington, is still alive. Pollyanna's mother dies when she is very young. Afterwards, she lives with her father in an unspecified location in the west of the United States. When Pollyanna is eleven-years-old, her father dies too. A friend of Pollyanna's father writes to Miss Polly Harrington. He has determined that she is Pollyanna's closest living relative. Although he is aware that there has been some ind of rift in the family, he asks Miss Polly Harrington if she will look after the child. She agrees. Pollyanna travels across the country by train to live with her aunt, a woman that she has never met or communicated with in any way.
Miss Polly Harrington is a very wealthy woman who lives alone in a large house in the town of Beldingsville, Vermont. She has a few servants, notably a young maid named Nancy, Old Tom the gardener and his son Timothy. All of her servants find Miss Polly to be an extremely demanding employer and do not enjoy working for her very much. Miss Polly agrees to look after Pollyanna because she considers it her duty to do so. She does not, however, take any pleasure in the idea of a little girl moving into her house. Although her sister Jennie and the man that she married are both dead it is clear that Miss Polly still considers their marriage to have been a great mistake and has not forgiven either of them for it. Miss Polly orders Nancy to prepare a small attic room for Pollyanna ad tells her to meet the girl at the train station. Miss Polly will not be at the station when her niece arrives.
Nancy tells Old Tom that Miss Polly's niece will be coming to live with her. He is delighted that Miss Jennie's niece will be coming to the house. He agrees with Nancy that a little girl and Miss Polly will probably not enjoy living with each other very much. He does, however, go on to say that Miss Polly was not always the unfriendly person that she is now. She was once very much in love with a man who lives in the town. Although their relationship came to an end after Miss Jennie left town to get married, it is rumored that Miss Polly is still in love with the man whose name Old Tom refuses to reveal
When Pollyanna arrives, Miss Polly makes no effort to make her niece feel at home. Instead, she lays down strict rules that Pollyanna has to follow. When Pollyanna mentions her father, Miss Polly immediately silences her and tells her never to speak of him again. Pollyanna, however, always sees the best in people and loves her Aunt Polly from the moment she meets her. Pollyanna's attic bedroom has little furniture and no pictures or ornaments of any kind. Although it is June, Miss Polly tells Pollyanna not to open the bedroom window. Pollyanna is disappointed with her drab and stuffy attic room. She takes great pleasure however. in the beautiful view from her bedroom window. When Pollyanna is late for dinner, Miss Polly punishes her by allowing her to have nothing but bread and milk at the kitchen table with Nancy. Pollyanna is glad to have a food and drink she enjoys in the company of a person who she likes. When Pollyanna opens her bedroom window and lets in flies, Miss Polly punishes her by making her read a booklet about flies and how they spread disease. Pollyanna is glad to have something to read. When Pollyanna leaves her hot bedroom to sleep on a flat roof, Miss Polly punishes her by making her spend the rest of the night with her in her bedroom. Pollyanna is glad to be shown such kindness by her aunt.
The fact that attempts to punish Pollyanna only appear to make her happier seems strange to both Miss Polly and Nancy. Pollyanna explains to Nancy about the "glad game". Pollyanna had once wanted a doll as a present. Her father was too poor to buy her any presents and had to rely on charitable donations, primarily from the Ladies Aid Society, to give his daughter any gifts. There was no doll among the charitable donations that Pollyanna and her father received. There were, however, some crutches. Pollyanna accepted the crutches as a present. Her father told her that she could be glad because she did not need to use the crutches. That was the beginning of the "glad game". Afterwards, whenever Pollyanna and her father faced problems, they would always try to find at least one thing to be glad about in every situation. After her father died, Pollyanna continued to play the "glad game" on her own. The fact that it is often a challenge to find anything to be glad about is what makes the game fun. Nancy finds the idea of the "glad game" amusing. She starts to play it herself and becomes happier as a result. Pollyanna is unable to tell her aunt about the "glad game" because it was invented by her father and Miss Polly has forbidden her from ever talking about him.
Even though it is summer and there is consequently no school, Miss Polly makes sure that Pollyanna's day is made up almost entirely of lessons, most of them taught by Miss Polly herself. Eventually, however, Miss Polly allows Pollyanna to have more time to go out and play, mainly because she finds Pollyanna's constant presence tiring.
Miss Polly regularly sends charitable donations of food to Mrs. Snow, an invalid who has been confined to her bed for the past fifteen years. Pollyanna starts to deliver the food to Mrs. Snow on Miss Polly's behalf. Mrs. Snow is extremely unhappy and argumentative when Pollyanna first meets her. Mrs. Snow's daughter, Milly, who lvies with her is similarly unhappy because she has to put up with her miserable mother. Pollyanna introduces Mrs. Snow to the "glad game". Although she finds it difficult at first, Mrs. Snow starts to enthusiastically play the game with Pollyanna. She also agrees to make small changes in her living arrangements that Pollyanna suggests. The lives of Mrs. Snow and Milly start to improve as a result.
On her regular walks, Pollyanna, often sees someone that she always thinks of as "The Man". She greets him whenever she sees him. "The Man" is confused by the idea that a small girl wants to talk to him and ignores her at first. Eventually, however, the two start to exchange small greetings whenever they meet. One day, Nancy is with Pollyanna when "The Man" speaks to her. Nancy is very surprised because "The Man" is Mr. John Pendleton who is well known for never speaking to anyone. He lives completely alone in a large house on top of Pendleton Hill without even any servants to cook or clean for him. He has all his meals at the hotel and, although he is extremely wealthy, he always orders the cheapest thing on the menu. Even though he spends almost no money in the town, John Pendleton often travels abroad. He acquires artifacts there, brings them home with him and then sends his time writing about them. Pollyanna thinks that John Pendleton must do missionary work and help the poor in foreign countries. As a result, she comes to believe that Mr. Pendleton must be very kind. Nancy also says that John Pendleton is rumored to have a skeleton in his closet. From Pollyanna's reaction Nancy can see that the girl takes the phrase literally and does not know it is just a figure of speech. She does not, however, explain its meaning to the child.
Miss Polly eventually realizes that she has been mistreating her niece by making her sleep in an attic room ad allows her to move into one of the large house's many other nicer bedrooms instead.
One day Pollyanna comes home with a sick stray kitten. Miss Polly is not very fond of cats and certainly does not want to allow a sick one into her house. She tries to tell Pollyanna that she cannot keep the animal. Pollyanna, however, has already told all the people she met on the way home that her kind Aunt Polly would surely allow her to keep the kitten. Miss Polly feels unable to stop the girl from keeping the kitten after that. Pollyanna names it Fluffy and it grows up into an adult cat. Shortly after finding the kitten, Pollyanna returns home with a stray dog. Miss Polly dislikes dogs even more than she dislikes cats. Again, however, Pollyanna has told everyone she met on the way home that her kind Aunt Polly would surely allow her to keep the animal and again Miss Polly feels powerless from preventing her niece from doing so. Pollyanna names the dog Buffy.
Not long after bringing home the dog, Pollyanna brings home a boy. The boy's name is Jimmy Bean. He is roughly the same age as Pollyanna and is an orphan. He lives in an orphanage but is not happy there and thinks he will probably be asked to leave soon anyway on account of his age. He wants to live in a proper home with a family and is prepared to work to earn his keep. Pollyanna tells Jimmy Bean that her Aunt Polly will surely take him in just as she took her in. Aunt Polly draws the line at taking another orphan child into her house. She insults Jimmy Bean by calling him a beggar and sends him away. Remembering how the Ladies Aid Society helped her in her old home town, Pollyanna decides to approach the Beldingsville branch of the organization to ask its members if they will take care of Jimmy Bean. To spare Jimmy Bean the possible humiliation of being rejected by a group of women instead of just by one, Pollyanna goes to a Ladies Aid Society meeting on her own. The Ladies Aid Society members discuss the possibility of helping Jimmy Bean but eventually decide against it, preferring to concentrate all of their charitable efforts on helping children in India instead. Pollyanna later writes to the Ladies Aid Society in her old hometown. Its members also decline to help Jimmy Bean.
While waling in Pendleton Woods one day, Pollyanna is approached by a dog that she recognizes as belonging to John Penndleton. The dog leads Pollyanna to John Pendleton, who is lying on the ground after having fallen and broken his leg. He gives Pollyanna the key to his house and tells her to go there and telephone Dr. Thomas Chilton. Pollyanna quickly does what John Pendleton asks her to do and then returns to wait with him until the doctor arrives. Dr. Chilton is impressed by Pollyanna's ability to help his patient.
The next time that she is expected to take food to Mrs. Snow, Pollyanna asks her Aunt Polly if she can take it to John Pendleton instead, explaining that he has broken his leg. Miss Polly is surprised to find out that her niece knows John Pendleton. It is clear that she has had some dealings with him in the past and does not like him. She initially refuses to let Pollyanna take the food to John Pendleton. After having made sure that John Pendleton does not know that Pollyanna is her niece, Miss Polly agrees to let her take the food to him but insists that the girl not reveal who sent it.
When Pollyanna arrives at John Pendleton's house, she finds Dr. Chilton there along with an elderly female housekeeper and a male nurse. Although Mr. Pendleton has given strict orders not to let anyone visit him, Dr. Chilton allows Pollyann into the house because he thinks it would do John Pendleton good to see her. John Pendleton is unhappy about having to pay the nurse and the housekeeper to look after him and about having to stay in bed for several days. Pollyanna tells him that he can be glad that he has only one broken leg and that it will get better. She casually refers to Nancy. When John Pendleton asks who Nancy is, Pollyanna replies that she works for her aunt, Miss Polly Harrington. It is clear that John Pendleton does not like Miss Polly either. He asks if she sent the food. Pollyanna replies that her aunt specifically told her not to say that she sent the food.
Dr. Chilton takes Pollyanna home in his buggy. On the ride home, Pollyanna notices that Dr. Chilton looks sad. She tells him that he ought to be glad because, although he sees people suffering every day, it is his job to make them feel better. Pollyanna tells her aunt that she made sure to tell John Pendleton that the food was not sent by her, much to Miss Polly's displeasure.
Miss Polly returns home one afternoon when wet and windy weather have made her hair look curly. Pollyanna is delighted by that. She insists on styling- her aunt's hair and putting a rose in it Miss Polly finds herself surprisingly pleased with the results of the make-over Pollyanna gives her. Through the open window she notices Dr. Chilton arrive outside the house. She is horrified that the doctor might have seen her looking that way and flees the room. Dr. Chilton has come to take Pollyanna to see Mr. Pendleton again, believing that it will do the man some good. The doctor asks Pollyanna if it was her aunt that he saw at the window. He agrees with the girl that Miss Polly looked "just lovely" but asks Pollyanna not to tell her aunt that.
John Pendleton apologizes to Pollyanna for not having been very friendly to her in the past. They spend a pleasant afternoon looking at a box full of objects that Mr. Pendleton has brought back from his travels to India and China. Before Pollyanna leaves, John Pendleton tells her that he had at first decided that he did not want to see her again because she reminded him of something he wanted to forget. Eventually, however, he decided that he did want to see Pollyanna again because not seeing her only made him dwell on those sad memories more. He asks Pollyanna if she will come back to see him often. The girl says that she will.
Later, Pollyanna tells Nancy about what John Pendleton said to her. Nancy considers how Mr. Pendleton did not at first want to see Pollyanna again after he found out she was Miss Polly's niece. but later changed his mind how he was somewhat reluctant to accept the food that Miss Polly sent, how John Pendleton and Miss Polly do not appear to like each other and how they both live alone. Nancy concludes that John Pendleton is the man with whom Miss Polly was once in love that she was told about by Old Tom. She think that asking Pollyanna to visit him often means that John Pendleton wants to get back together with Miss Polly and declares that that the situation is "just like a book".
On her visits to John Pendleton's house, Pollyanna tells him about the "glad game" and encourages him to pay it. Pollyanna is very impressed one day she sees what she calls a "baby rainbow" in Mr. Pendeton's house. It is caused by sunlight coming through a glass prism. Mr. Pendleton arranges to have many prisms set up in the room so that it appears to be full of rainbows. He gives some prisms to Pollyanna which are hung up in her bedroom window.
Pollyanna starts school in September. John Pendleton is not happy that she is not able to visit him as often as she could before. He tells Pollyanna how he once wanted to share his home with someone he loved. When that proved impossible, he found himself living in a house rather than a home. He says, "it takes a woman's hand and heart, or a child's presence, to make a home." He asks Pollyanna if she will live with him. He tells her not to tell anyone else about that yet. Pollyanna is excited by the idea because she thinks John Pendleton is suggesting that both she and her Aunt Polly should come and live with him. Mr. Pendleton tries to tell her that is not what he has in mind but is interrupted by the arrival of Dr. Chilton.
The following day, Dr. Chilton takes Pollyanna to see John Pendleton again. Although he told her not to tell anyone else, Pollyanna tells the doctor that Mr. Pendleton wants her and her aunt to live with him. She goes on to tell Dr. Chilton that Nancy had told her that Miss Polly was once in love with a man in the town and that she and Nancy have concluded that man was Mr. Pendeton. Dr. Chilton, with a strange smile on his face, comments that he was not aware that John Pendleton and Miss Polly Harrington had ever been in love with each other.
John Pendleton asks Pollyanna why she assumed that he was asking both her and her aunt to live with him. When Pollyanna tells him, he replies that both she and Nancy are mistaken. He was never in love with Miss Polly Harrington and the invitation to move in with him extends to Pollyanna alone. Pollyanna is extremely reluctant to leave her Aunt Polly. Mr. Pendleton acknowledges that Miss Polly has been good to her niece but says that she has only been so because she felt it was her duty. He says that Miss Polly does not really love her niece or want to live with her. Pollyanna agrees to ask her aunt if she can go and live with Mr. Pendleton.
Nancy comes to meet Pollyanna on her way home. Miss Polly has sent her with an umbrella because it looks like it will rain. Nancy tells Pollyanna she should be glad that her aunt was worried about her, intending to point out how Miss Polly has changed for the better. Pollyanna repeats what John Pendleton said about her aunt always doing her duty but asks if she really wants her in her house. Nancy lists all the ways in which she has noticed a positive change in Miss Polly since Pollyanna came to live with her. She is careful not to say that Miss Polly initially did not Pollyanna to move in with her. Convinced that her aunt would be sad if she left the house, Pollyanna decides not to ask her if she could go and live with Mr. Pendleton.
Pollyanna tells Mr. Pendleton that she will not be coming to live with him and tells him that she did not even ask her aunt if she could. She goes on to say that another "child's presence" could turn Mr. Pendleton's house into a home. He could let the unwanted orphan boy Jimmy Bean live with him. John Pendleton flatly refuses to take in any child other than Pollyanna. This seems strange to Pollyanna. She cannot understand why Mr. Pendleton does not want a living boy in his house and accuses him of preferring the company of the skeleton that Nancy says he keeps in a closet. John Pendleton realizes that there is more truth in that statement than Pollyanna knows. He agrees to meet Jimmy Bean.
Mrs. Snow sends Pollyanna to see Dr. Chilton to get some medicine. It is Pollyanna's first visit to Dr. Chilton's home. He comments that it is not really a home just some rooms. Pollyanna repeats John Pendleton's words "it takes a woman's hand and heart or a child's presence, to make a home." She asks Dr. Chilton why he does not get a woman to live with him. She then feels obliged to say that she has found out that John Pendleton was not the man with whom Miss Polly was once in love after all. It occurs to Pollyanna that Dr. Chilton was once in love with someone and that relationship came to an unhappy end. Dr. Chilton tells Pollyanna not to concern herself with such matters.
On the last day of October Pollyanna is hit by a car. When she regains consciousness, she finds herself at home in her bed. She realizes that she cannot move her legs and has no feeling in them. Pollyanna is keen to get out of bed and go back to school. Unfortunately, she has no choice but to stay in bed for several days while she waits for a specialist to come from New York to examine her. Miss Polly refuses Pollyanna's repeated requests to see Dr. Chilton, insisting that it is Dr. Warren, not Dr. Chilton, who is the family physician. Otherwise Miss Polly does everything she can to try to make her niece feel comfortable and happy. For the first time, she allows the cat Fluffy and the dog Buffy to come into Pollyanna's bedroom and even onto her bed. Unlike her aunt, Pollyanna is not aware of the seriousness of her situation. She thinks that her legs are only temporarily broken and will heal, as Mr. Pendleton's leg did. She says she is glad she is not a lifelong invalid, like Mrs. Snow.
John Pendleton wants to know how Pollyanna is. For the first time in many years, he goes to Miss Polly Harrington's house to find out about the girl's condition. Nancy still believes that John Pendleton and Miss Polly were once in love with each other. She rushes to tell Old Tom about the unexpected visitor. Old Tom tells Nancy she has made a mistake. John Pendleton had been in love with Miss Jennie, Pollyanna's future mother. After Miss Jennie left town to marry the man who would become Pollyanna's father, Miss Polly felt sorry for Mr. Pendleton and tried to comfort him. That led to rumors that, instead of the man she had been in love with, Miss Polly now wanted to marry the wealthier John Pendleton. As a result of that gossip, the relationship between Miss Polly and the man she loved came to an end, as did any friendship she had with John Pendleton.
Miss Polly is unable to give John Pendleton any definitive answers about Pollyanna's condition. He tells Miss Polly tat he wanted Pollyanna to come and live with him and to legally adopt her. He wants Miss Polly to now that Pollyanna could never leave the aunt she loves.
The specialist from New York finally arrives and examines Pollyanna. He comes to the conclusion that the girl will never walk again. He wants to tell Miss Poly Harrington that in private. The door of Pollyanna's bedroom is, however, left slightly ajar. Fluffy the cat is able to open the door a little wider in order to get into the room. As a result, Pollyanna overhears the terrible news about her permanent paralysis through the open door. The distraught Pollyanna asks how she can ever be glad for anything ever again.
Having heard about Pollyanna's paralysis and the manner in which the girl found out about it, Nancy decides to go to see John Pendleton. She tells the man that something he can do to make Pollyanna feel better is to see Jimmy Bean again. Shortly afterwards, John Pendleton allows Jimmy Bean to live with him and legally adopts the boy. Hearing that news does indeed make Pollyanna feel glad.
A great many visitors come to Miss Polly Harrington's house. Some of them she knows and others she does not. They all now Pollyanna and tell her aunt about how meeting the girl changed their lives for the better. Many of them talk about how they have felt happier since they started playing the "game". Confused by this talk, Miss Polly asks Nancy about the "game". Nancy tells her all about the "glad game" and explains that Pollyanna could not tell her aunt about it because it was invented by her father and Miss Polly had forbidden her from ever speaking about him. Miss Polly realizes she made a terrible mistake by not allowing the girl to talk about her father. She begins enthusiastically playing the "glad game" with her niece. Pollyanna is able to be glad that she was once able to walk and meet many people.
It is revealed that Dr. Thomas Chilton was the man with whom Miss Polly was once in love. Dr. Chilton has a friend who he believes could help Pollyanna to walk again. Although he wants very much to help the girl, he feels he cannot because he has been forbidden from ever going to Miss Polly Harrington's house again. Miss Polly had told him that if she ever invited him to her home again, it would mean she was ready to resume her relationship with him and marry him. Dr. Chilton visits John Pendleton and tells him about how he thinks he might be able to help Pollyanna but feels powerless to do so. Jimmy Bean, who is working in the garden, overhears the conversation through an open window. He rushes to tell Miss Polly Harrington what he has earned. Miss Polly invites Dr Chilton to her house and Dr. Warren gives him permission to examine Pollyanna.
Arrangements are made to send Pollyanna to the hospital of Dr. Chilton's friend. Dr Thomas Chilton and Miss Polly Harrington also realize that they are still in love with each other and all disagreements between them are forgotten.
The final chapter takes the form of a letter from Pollyanna to her aunt and her new uncle, Dr. Chilton. It is revealed that the wedding of Miss Polly Harrington and Dr. Thomas Chilton took place at the hospital where Pollyanna was being treated. After ten months of treatment, Pollyanna has just started to walk very short distances again. She has been told that she will soon be able to go home.
Adaptations
The American playwright Catherine Chisholm-Cushing adapted Pollyanna for the stage as Pollyanna: The Glad Girl. The play was first performed in Philadelphia in 1915. It was performed at the Hudson Theater on Broadway between September and December 1916 and toured the United States and Canada in 1919 and 1920.
The first screen adaptation of the novel, the American silent movie Pollyanna, was filmed in 1919 and released in 1920. It stars the then 27-year-old Mary Pickford as the pre-teen Pollyanna with Katherine Griffith as Aunt Polly, Helen Jerome Eddy as Nancy, William Courtleigh as John Pendleton, Herbert Prior as Dr. Chilton and 16-year-old Howard Ralston as Jimmy Bean. The 56-minute film presents a heavily abbreviated version of the story of Eleanor H. Porter's novel. Much of its running time is dedicated to interaction between Pollyanna and Jimmy Bean. Jimmy Bean is a much more prominent character in the film than he is in the book. He is introduced early on in the movie and, from that point onward, is Pollyanna's almost constant companion, as well as her burgeoning love interest. Above all else, the film is intended to be humorous. It features a lot of physical comedy, much of it bordering on slapstick. Fantasy elements are even introduced to the movie through dream sequences. In the film, Pollyanna is hit by a car while heroically pushing a younger girl out of the oncoming vehicle's path. It is the power of her love for Jimmy Bean, rather than any medical intervention, that eventually allows Pollyanna to walk again unaided. Pollyanna was a great commercial success. Having been made on an estimated budget of $300,000, it earned $1,160,962 at the box office.
The second American screen adaptation of the novel, a live-action film from Walt Disney Productions called Pollyanna, was released in 1960. It stars the British child actress Hayley Mills as the title character with Jane Wyman, Agnes Moorhead, Nancy Olsen, Adolphe Menjou, Richard Egan, James Drury and Kevin Corcoran. As in the 1920 silent movie, Jimmy Bean is a more prominent character in the Disney film than he is in the book. The Disney movie differs from the novel in several other ways too. Dr. Thomas Chilton's name is changed to Dr. Edmond Chilton. John Pendleton's name is changed to John Prendergast. The name of the town where Pollyanna goes to live is changed from Beldingsville to Harrington. The extremely wealthy Miss Polly Harrington effectively controls the entire town that bears her name. Nancy is in love with a man named George Dodds, a character who does not appear in the book at all. Miss Polly does not approve of their relationship. A major plot point of the movie, entirely absent from the novel, concern the efforts of the town's people to have the old orphanage building demolished and build a new orphanage in its place. Miss Polly Harrington is opposed to those plans because her father had the orphanage built and she considers the building to be of great historical importance. A carnival is held in order to raise money to build a new orphanage. Although Miss Polly forbids her from attending it, Pollyanna manages to go to the carnival anyway. She sneaks out of the house by climbing down a tree she can reach from her bedroom window. While trying to get back in through her bedroom window again, after having climbed back up the tree, Pollyanna falls and is paralyzed as a result. The film ends before Pollyanna leaves town to have surgery that might reverse her paralysis. Whether or not Pollyanna will ever walk again therefore remains ambiguous. Pollyanna has been generally well received by critics and Hayley Mills won a special Academy Award for her performance as the title character. The movie was, however, not a great commercial success. Having been made on a budget of $2.5 million, it only earned $3.75 million at the North American box office.
The 1971 Turkish musical comedy film Hayat Sevince Güzel,[1] starring then 17-year-old actress Zeynep Değirmencioğlu, is an unofficial remake of the 1960 Disney film Pollyanna set in present-day Turkey. The main character's name is changed from Pollyanna to Ayşecik, which is also the name of other characters played by Zeynep Değirmencioğlu in fourteen other movies released between 1960 and 1971, including adaptations of Mark Twain's The Prince and the Pauper and L. Frank Baum's The Wonderful Wizard of Oz. .
The American TV movie Polly, made by Walt Disney Television, is a musical remake of the 1960 Disney film Pollyanna with an almost entirely African-American cast. It first aired on NBC on November 12, 1989. It stars Keshia Knight Pulliam as the titular little girl and Phylicia Rashad as her namesake aunt. The action takes place in the fictional town of Harrington, Alabama in 1955. A broken bridge across a ravine takes the place of the old orphanage building from the 1960 movie.
Pollyanna has twice been adapted for British television.
The BBC TV series Pollyanna is made up of six episodes of thirty minutes each. The episodes were first shown on BBC1 between October 7 and November 11, 1973. The series stars the American actress Elaine Stritch as Aunt Polly, Elizabeth Archard as Pollyanna, Paddy Frost as Nancy, Ray McAnally as John Pendleton, Paul Maxwell as Dr. Chilton, Stephen Galloway as Jimmy Bean, Donald Bisset as Old Tom and Robert Coleby as Timothy. The adaptation is a largely faithful one with few significant changes made to the story presented in Eleanor H. Porter's novel. The role of the servant Timothy, a very minor character in the book, is somewhat expanded in the BBC series. Unlike in the novel, he is depicted as being in a romantic relationship with Nancy. In a change reminiscent of the 1960 Disney film, Pollyanna is paralyzed when she falls from a simple bridge made from a tree trunk. The series ends with Pollyanna, who has just started to walk again, back at home to attend her aunt's wedding. Although the BBC series retains the novel's American setting, several of the actors do not attempt to do an American accent.
The 99-minute British TV movie Pollyanna was made by Carlton Television. It was first shown on the ITV network on January 1, 2003. It stars Georgina Terry as Pollyanna, Amanda Burton as Aunt Polly, Kate Ashfield as Nancy, Pam Ferris as Mrs. Snow, Kenneth Cranham as John Pendleton, Aden Gillett as Dr. Chilton, Ben Thornton as Jimmy Bean, Tom Bell as Old Tom and Tom Ellis as Timothy. Although the setting is changed from the United States in the early 20th century to England in the early 20th century, the adaptation is a faithful one that follows the plot of Eleanor H. Porter's novel closely. A significant change is that the role of Timothy is even more greatly expanded than in the 1973 adaptation. A sub-plot, entirely absent from the novel, concerns the romance between Timothy and Nancy that Pollyanna helps to orchestrate. Timothy is a keen motor car enthusiast. Nancy comes to hate cars after Pollyanna is hit by one and her relationship with Timothy suffers as a result. Similarly to the 1973 TV series, the 2003 TV movie ends with Pollyanna having just started to walk again and returning home to attend her aunt's wedding.
The novel Pollyanna and its sequel Pollyanna Grows Up were adapted as the 51-episode anime series The Story of Pollyanna Girl of Love (Japanese: 愛少女ポリアンナ物語; Ai Shōjo Porianna Monogatari). The series was produced by Nippon Animation and first shown on Fuji TV in Japan between January 12 and December 28, 1986.
As Aventuras de Poliana, a soap opera inspired by Pollyanna, has been airing on the TV channel SBT in Brazil since May 18, 2018. It stars the Brazilian actress and singer Sophia Valverde as the title character. The setting is in present-day São Paulo.
See also
Candide, featuring the character of the eternally optimistic Dr. Pangloss
Footnotes
↑

The film's title means" Love makes life beautiful" in Turkish.
External links
Community content is available under
CC-BY-SA
unless otherwise noted.