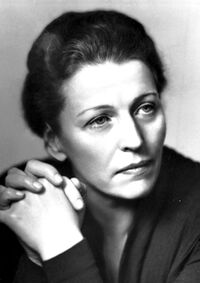 Pearl Comfort Sydenstrciker Buck, better known as Pearl S. Buck and also known by the Chinese name Sai Zhenzha, (June 26, 1892 - March 6, 1973) was an award-winning American writer of novels, short stories and non-fiction who spent most of the first forty years of her life in China. Buck won the Pulitzer Prize in 1931 for her novel The Good Earth, which was also the best-selling work of fiction in the United States in 1931 and 1932. In 1938 Buck became the first American woman to win the Nobel Prize for Literature.
Biography
Pearl Comfort Sydenstricker was born in Hillsboro, West Virginia on June 26, 1892h. Her father Absalom Sydenstricker and her mother Caroline Stultry were both Southern Presbyterian missionaries. Although she was born in the United States, her parents had been living in China since their marriage in July 1880. Three months after their daughter's birth, the Sydenstrickers returned to China, taking the child with them. The young Pearl Sydenstricker grew up bilingual, learning English from her parents and Chinese from a local tutor.
In 1911 she returned to the United States to attend Randolph-Macon Woman's College in Virginia. She returned to China after graduation in 1914. She became a Southern Presbyterian missionary but later left the church due to doctrinal differences.
On May 13, 1917 she married American agricultural economist John Lossing Buck. They lived for several years in the small town of Suzhou on the Huai River in Anhui Province, a region which Buck later wrote about in her novels The Good Earth and Sons.
The Bucks lived in Nanjing between 1920 and 1934. They both had teaching positions at Nanjing University. Pearl S. Buck taught English literature. In 1924 the couple took a year off from their teaching positions and returned to the United States for a year. During that time Pearl S. Buck gained a master's degree from Cornell University.
At the end of the 1920s fighting between the Nationalists and the Communists meant that life began to become dangerous for foreigners in China. The Bucks left Nanjing for Shanghai and then Japan, where they spent a year. They briefly returned to Nanjing but left the city and China permanently in 1934.
The Bucks divorced in 1935. Pearl S. Buck married her publisher Richard Walsh and settled in Pennsylvania.
During Mao Zedong's Cultural Revolution Pearl S. Buck's writings about China were denounced as American imperialism. Buck was deeply upset that the Communist authorities would not allow her to visit China with Richard Nixon in 1972.
Buck died of lung cancer on March 6, 1673. she designed her own tombstone, which bears the name "Pearl Sydenstricker" written in Chinese characters.
External links
Community content is available under
CC-BY-SA
unless otherwise noted.