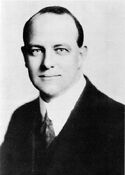 Sir Pelham Grenville Wodehouse, better known as P.G. Wodehouse, wrote novels, short stories and song lyrics. Some of his famous characters are Bertie Wooster and Jeeves.
Selected works
Blandings Castle stories
Something New (1915)
Blandings Castle and Elsewhere (1935)
Summer Lightning (1929)
Heavy Weather (1933)
Uncle Fred in the Springtime (1939)
Full Moon (1947)
Pigs Have Wings (1952)
Service With a Smile (1961)
Galahad at Blandings (1965)
A Pelican at Blandings (1969)
Jeeves and Wooster stories
My Man Jeeves (1919), collection
Very Good Jeeves (1930), collection
The Inimitable Jeeves (1923), collection
Carry on, Jeeves (1925), collection
Very Good, Jeeves (1930) collection, including "Jeeves and the Yule-Tide Spirit"
Thank You, Jeeves (1934)
Right Ho, Jeeves (1934)
The Code of the Woosters (1938)
Joy in the Morning (1946)
The Mating Season (1949)
Ring for Jeeves (1953)
Jeeves and the Feudal Spirit (1954)
Jeeves in the Offing (1960)
Stiff Upper Lip, Jeeves (1963)
Much Obliged, Jeeves (1971)
Aunts Aren't Gentlemen (1974)
Psmith stories
Mike (1909)
Psmith in the City (1910)
Psmith, Journalist (1912)
Leave It to Psmith (1923)
School stories
The Pothunters (1902)
A Prefect's Uncle (1903)
The Gold Bat (1904)
The Head of Kay's (1905)
The White Feather (1907)
See also
External links

This article is a stub. You can help the Literawiki by expanding it.
Community content is available under
CC-BY-SA
unless otherwise noted.