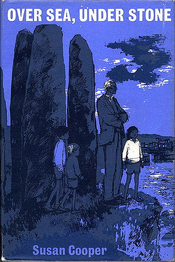 Over Sea, Under Stone' 'is the first book in The Dark is Rising series by Susan Cooper. It was first published in 1965.
Three children, Jane, Simon and Barney Drew, make discoveries that begin some quests while on a visit to Cornwall.
The story begins with their arrival with their parents at the train station in Cornwall. They are staying with their Grand Uncle Merry -- not actually a relative, but a long-time friend of the family. The story involves hidden doors, ancient treasure maps and more exciting explorations.
ISBN 0-590-43320-2
copyright 1965
Related
See the The Dark is Rising Wikia.