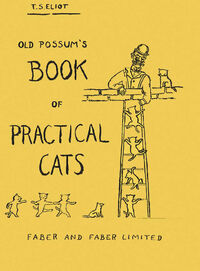 Old Possum's Book of Practical Cats (1939) is a book of feline-themed poems by T.S. Eliot. Many of the poems in the collection were originally sent by Eliot, writing as "Old Possum" (his nickname), to his godchildren. The book inspired Andrew Lloyd Webber's award-winning musical, Cats.
Poems
"The Naming of Cats"
A cat must have three different names; the everyday name, the unique and dignified, and the secret.
"The Old Gumbie Cat"
A tabby named Jennyanydots sits all day but runs the household during the night.
"Growltiger's Last Stand"
Known as "The Terror of the Thames," Growltiger is a rough cat with one ear and one eye missing.
"The Rum Tum Tugger"
Rum Tum Tugger is a curious cat who always wants the opposite and will do as he pleases.
"The Song of the Jellicles"
Jellicles are black and white small cats who like to dance in the moonlight.
"Mungojerrie and Rumpelteazer"
Story about a couple of notorious cat-burglars.
"Old Deuteronomy"
Deuteronomy is a very old and placid village cat beloved by the residents.
"Of The Awefull Battle of the Pekes and the Pollicles"
A dogfight is broken up by the mere presence of a single fierce cat.
"Mr. Mistoffelees"
A magical black cat performs conjuring tricks.
"Macavity: The Mystery Cat"
A tall and thin ginger cat, Macavity is the master criminal, the Napoleon of Crime (reference to Professor Moriarty - poem contains other Sherlockian references).
"Gus: The Theatre Cat"
Asparagus, an old and shabby cat, tells stories of his youth when he was a stage star.
"Bustopher Jones: The Cat about Town"
A twenty-five pound tuxedo cat, Bustopher Jones is a dandy who enjoys fine dining at all the gentlemen's clubs on St. James Street and Pall Mall.
"Skimbleshanks: The Railway Cat"
A green-eyed cat patrols and keeps watch on the Sleeping Car Express.
"The Ad-dressing of Cats"
The poet explains how to properly and respectfully ad-dress a cat (because, as he says, "A CAT IS NOT A DOG").
"Cat Morgan Introduces Himself"
Ca(p)t Morgan is a gruff but kind-hearted ex-Pirate who keeps the door at Faber and Faber (a London publishing house where Eliot worked).
External links
Community content is available under
CC-BY-SA
unless otherwise noted.