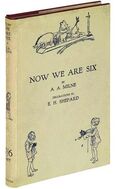 Now We Are Six, first published in 1927, is A.A. Milne's second collection of children's poems, following When We Were Very Young. Published between Winnie-the-Pooh (1926) and The House at Pooh Corner (1928), it is the second of Milne's works to feature the character called Winnie-the-Pooh, although he appeared as Edward Bear in When We Were Very Young. The first edition of Now We Are Six is illustrated with black and white line drawings by E.H. Shepard. In some more recent editions, Shepard's illustrations have been colorized.
There are a total of thirty-five poems in Now We Are Six. Milne's son Christopher Robin is mentioned by name in four of the poems and can be considered to be the narrator of several others. Winnie-the-Pooh is the subject of two of the poems, "Us Two" and "The Friend", but appears in twenty-one of the book's illustrations. In the introduction, Milne explains that Pooh "thought it was a different kind of book ... he walked through it one day looking for his friend Piglet and sat down on some of the pages by mistake."
However, the best known poem in the collection, "King John's Christmas", features neither Pooh nor Christopher Robin. It tells the story of how bad King John discovers that Father Christmas loves him a little when he gets a big red india-rubber ball as a present.
External links
Community content is available under
CC-BY-SA
unless otherwise noted.