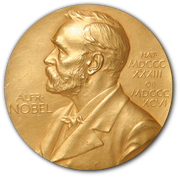 The Nobel Prize in Literature (often referred to as the Nobel Prize for Literature) is a prestigious international prize awarded annually to authors in recognition of their outstanding bodies of literary work. It is one of the five prizes established by the Swedish chemist and inventor Alfred Nobel (1833–1896) in his will.
Each year, the laureate is selected in October by the Nobel Committee of the Swedish Academy from a long list of candidates - usually about 200 nominations - received by the February 1 deadline. The laureate receives a gold medal and a diploma in addition to a large sum of money for the prize at a ceremony held in Stockholm.
With the exception of eight years (1914, 1918, 1935, 1940–1943 and 2018), the prize has been awarded continuously since 1901. In 1904, the prize was jointly awarded to the Spanish author José Echegaray and the French author Frédéric Mistral. In 1917, it was jointly awarded to the Danish authots Karl Adolph Gjellerup and Henrik Pontoppidian. In 1966, it was jointly awarded to the Israeli author Shmuel Yosef Agnon and the German-born Swedish author Nelly Sachs. In 1974, it was jointly awarded to the Swedish authors Eyvind Johnson and Harry Martinson.
The Nobel Prize in Literature was declined by the Soviet writer Boris Pasternak in 1958 and by the French author Jean-Paul Sartre in 1966.
Winners
| Year | Winner |
| --- | --- |
| 2018 | No prize awarded |
| 2017 | Kazuo Ishiguro ( Japan/ United Kingdom) |
| 2016 | Bob Dylan ( United States) |
| 2015 | Svetlana Alexievich ( Belarus) |
| 2014 | Patrick Modiano ( France) |
| 2013 | Alice Munro ( Canada) |
| 2012 | Mo Yan ( China) |
| 2011 | Tomas Tranströmer ( Sweden) |
| 2010 | Mario Vargas Llosa ( Peru/ Spain) |
| 2009 | Herta Müller ( Romania/ Germany) |
| 2008 | Jean-Marie Gustave Le Clézio ( France/ Mauritius) |
| 2007 | Doris Lessing ( Iran/ United Kingdom) |
| 2006 | Orhan Pamuk ( Turkey) |
| 2005 | Harold Pinter ( United Kingdom) |
| 2004 | Elfriede Jelinek ( Austria) |
| 2003 | John M. Coetzee ( South Africa) |
| 2002 | Imre Kertész ( Hungary) |
| 2001 | V.S. Naipaul ( Trinidad and Tobago/ United Kingdom) |
| 2000 | Gao Xingjian ( China/ France) |
| 1999 | Günter Grass ( Germany) |
| 1998 | José Saramago ( Portugal) |
| 1997 | Dario Fo ( Italy) |
| 1996 | Wisława Szymborska ( Poland) |
| 1995 | Seamus Heaney ( Ireland) |
| 1994 | Kenzaburō Ōe ( Japan) |
| 1993 | Toni Morrison ( United States) |
| 1992 | Derek Walcott ( Saint Lucia) |
| 1991 | Nadine Gordimer ( South Africa) |
| 1990 | Octavio Paz ( Mexico) |
| 1989 | Camilo José Cela ( Spain) |
| 1988 | Naguib Mahfouz ( Egypt) |
| 1987 | Joseph Brodsky ( Soviet Union/ United States) |
| 1986 | Wole Soyinka ( Nigeria) |
| 1985 | Claude Simon ( French Madagascar/France) |
| 1984 | Jaroslav Seifert ( Czechoslovakia) |
| 1983 | William Golding ( United Kingdom) |
| 1982 | Gabriel García Márquez ( Colombia) |
| 1981 | Elias Canetti ( Bulgaria/ United Kingdom) |
| 1980 | Czesław Miłosz ( Poland) |
| 1979 | Odysseas Elytis ( Greece) |
| 1978 | Isaac Bashevis Singer ( Poland/ United States) |
| 1977 | Vicente Aleixandre ( Spain) |
| 1976 | Saul Bellow ( Canada/ United States) |
| 1975 | Eugenio Montale ( Italy) |
| 1974 | Eyvind Johnson ( Sweden) |
| 1974 | Harry Martinson ( Sweden) |
| 1973 | Patrick White ( United Kingdom/ Australia) |
| 1972 | Heinrich Böll ( West Germany) |
| 1971 | Pablo Neruda ( Chile) |
| 1970 | Aleksandr Solzhenitsyn ( Soviet Union) |
| 1969 | Samuel Beckett ( Ireland) |
| 1968 | Kawabata Yasunari ( Japan) |
| 1967 | Miguel Ángel Asturias ( Guatemala) |
| 1966 | Shmuel Yosef Agnon ( Israel) |
| 1966 | Nelly Sachs ( Germany/ Sweden) |
| 1965 | Mikhail Sholokov ( Soviet Union) |
| 1964 | Jean-Paul Sartre ( France) |
| 1963 | Giorgos Seferis ( Greece) |
| 1962 | John Steinbeck ( United States) |
| 1961 | Ivo Andrić ( Yugoslavia) |
| 1960 | Saint-John Perse ( France) |
| 1959 | Salvatore Quasimodo ( Italy) |
| 1958 | Boris Pasternak ( Soviet Union) |
| 1957 | Albert Camus ( French Algeria/France) |
| 1956 | Juan Ramón Jiménez ( Spain/ Puerto Rico) |
| 1955 | Halldór Laxness ( Iceland) |
| 1954 | Ernest Hemingway ( United States) |
| 1953 | Winston Churchill ( United Kingdom) |
| 1952 | François Mauriac ( France) |
| 1951 | Pär Lagerkvist ( Sweden) |
| 1950 | Bertrand Russell ( United Kingdom) |
| 1949 | William Faulkner ( United States) |
| 1948 | T.S. Eliot ( United States/ United Kingdom) |
| 1947 | André Gide ( France) |
| 1946 | Hermann Hesse ( Germany/ Switzerland) |
| 1945 | Gabriela Mistral ( Chile) |
| 1944 | Johannes Vilhelm Jensen ( Denmark) |
| 1943 | No prize awarded |
| 1942 | No prize awarded |
| 1941 | No prize awarded |
| 1940 | No prize awarded |
| 1939 | Frans Eemil Sillanpää ( Finland) |
| 1938 | Pearl S. Buck ( United States) |
| 1937 | Roger Martin du Gard ( France) |
| 1936 | Eugene O'Neiill United States) |
| 1935 | No prize awarded |
| 1934 | Luigi Pirandello ( Italy) |
| 1933 | Ivan Bunin ( Russian Empire/ France) |
| 1932 | John Galsworthy ( United Kingdom) |
| 1931 | Erik Axel Karlfedt ( Sweden) |
| 1930 | Sinclair Lewis ( United States) |
| 1929 | Thomas Mann ( Germany) |
| 1928 | Sigrid Undset ( Denmark/ Norway) |
| 1927 | Henri Bergson ( France) |
| 1926 | Grazia Deledda ( Italy) |
| 1925 | George Bernard Shaw ( Ireland) |
| 1924 | Władysław Reymont ( Poland) |
| 1923 | W.B. Yeats ( Ireland) |
| 1922 | Jacinto Benavente ( Spain) |
| 1921 | Anatole France ( France) |
| 1920 | Knut Hamsun ( Norway) |
| 1919 | Carl Spitteler ( Switzerland) |
| 1918 | No prize awarded |
| 1917 | Henrik Pontoppidan ( Denmark) |
| 1917 | Karl Adolph Gjellerup ( Denmark) |
| 1916 | Verner von Heidenstam ( Sweden) |
| 1915 | Roman Rolland ( France) |
| 1914 | No prize awarded |
| 1913 | Rabindranath Tagore ( India) |
| 1912 | Gerhart Hauptmann ( German Empire) |
| 1911 | Maurice Maeterlinck ( Belgium) |
| 1910 | Paul von Heyse ( German Empire) |
| 1909 | Selma Lagerlöf ( Sweden) |
| 1908 | Rudolph Christoph Eucken ( German Empire) |
| 1907 | Rudyard Kipling ( India/ United Kingdom) |
| 1906 | Giosuè Carducci ( Italy) |
| 1905 | Henryk Sienkiewicz ( Poland) |
| 1904 | Frédéric Mistral ( France) |
| 1904 | José Echegaray ( Spain) |
| 1903 | Bjørnstjerne Bjørnson ( Norway) |
| 1902 | Christian Matthias Theodor Mommsen ( German Empire) |
| 1901 | Sully Prudhomme ( France) |
External links