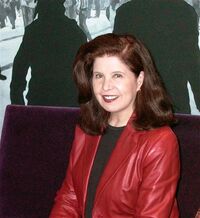 Nancy Kress (born Nancy Anne Koningisor in Buffalo, New York on January 20, 1948) is an American science fiction author. She began writing in 1976 but has achieved her greatest notice since the publication of her Hugo Award and Nebula Award-winning novella Beggars in Spain in 1990. Kress pens a regular column for Writer's Digest.
She grew up in East Aurora, New York and attended college at SUNY Plattsburgh. In 1973, she moved to Rochester to marry Michael Joseph Kress. They had two sons, and divorced in 1984. At that time, she went to work at Stanton and Hucko, an advertising agency. In 1998, she married Charles Sheffield, who died in 2002 of a brain tumor. Kress moved back to Rochester, New York, to be near her grown children.
She tends to write technically realistic stories set in a fairly near future that has a plausible connection to the present. Her fiction often involves genetic engineering, and, to a lesser degree, artificial intelligence.
She loves ballet, and has written stories around it.
Bibliography
Fiction
Prince of the Morning Bells (1981)
The Golden Grove (1984)
The White Pipes (1985)
Trinity and Other Stories(1985)
An Alien Light(1988)
The Price of Oranges (1989)
Brainrose (1990)
The Aliens of Earth (1993)
Oaths and Miracles (1996)
Maximum Light (1998)
Stinger (novel)|Stinger (1998)
Beaker's Dozen (1998)
Yanked (1999)
Probability Moon (2000)
Probability Sun (2001)
Probability Space (2002)
Crossfire(2003)
Nothing Human (2003)
Crucible (2004)
The Sleepless Universe
Beggars in Spain (1993)
Beggars and Choosers (1994)
Beggars Ride (1996)
Non-fiction: books about writing
Beginnings, Middles & Ends (1993)
Dynamic Characters: How to Create Personalities That Keep Readers Captivated (1998)
Characters, Emotion & Viewpoint (2005)
External links
Community content is available under
CC-BY-SA
unless otherwise noted.