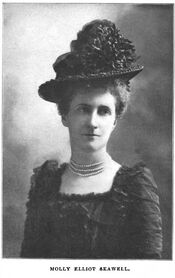 Mary Elliot Seawell, better known as Molly Elliot Seawell (October 23, 1860 - November 15, 1916) was an American author whose works include essays, plays and short stories, many of which were originally published in The New York Times.
Works
Midshipman Paulding (1891)
Paul Jones (1892)
Decatur and Somers (1893)
The Berkleys and their Neighbors (1894)
A Strange, Sad Comedy (1894)
The Sprightly Romance of Marsac (1896)
The History of Lady Betty Star's Suitors (1897)
A Virginian Cavalier (1898)
The Rock of the Lion (1898)
The Loves of the Lady Arabella (1899)
The Fortunes of Fifi (1903)
The Victory (1906)
External links

This article is a stub. You can help the Literawiki by expanding it.
Community content is available under
CC-BY-SA
unless otherwise noted.