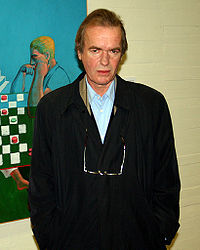 Martin Amis (born August 25, 1949) is an English novelist, essayist and short story writer. His works include such novels as London Fields (1989) and The Information (1995). Amis' raw material is what he sees as the absurdity of the postmodern condition with its grotesque caricatures.
Works
Novels
Collections
Einstein's Monsters (1987)
Two Stories (1994)
God's Dice (1995)
Heavy Water: And Other Stories (1998)
State of England: And Other Stories (1998)
Amis Omnibus (omnibus) (1999)
The Fiction of Martin Amis (2000)
Vintage Amis
Non fiction
Invasion of the Space Invaders (1982)
The Moronic Inferno: And Other Visits to America (1986)
Experience (2000)
The War Against Cliché: Essays and Reviews 1971-2000 (2001)
Koba the Dread: Laughter and the Twenty Million (2002) (About Joseph Stalin and Russian History)
The Second Plane: September 11: Terror and Boredom (2008)
External links
Community content is available under
CC-BY-SA
unless otherwise noted.