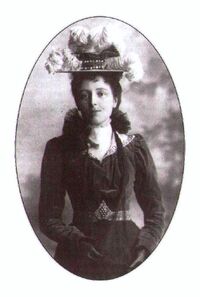 Lucy Maud Montgomery (November 30, 1874 -April 24, 1942), known as "Maud" to her family, was a Canadian author and poet who published under the name L. M. Montgomery. She wrote novels and short stories about life in small towns in Canada, and particularly on Prince Edward Island, where she spent most of her own life. She is best known for her Anne of Green Gables series.
Novels
Anne of Green Gables series
The Story Girl
The Story Girl (1911)
The Golden Road (1913)
Emily of New Moon series
Emily of New Moon (1923)
Emily Climbs (1925)
Emily's Quest (1927)
Pat of Silver Bush series
Pat of Silver Bush (1932)
Mistress Pat (1935)
Assorted
Kilmeny of the Orchard (novelette, 1910)
The Blue Castle (1926)
Magic For Marigold (1929)
A Tangled Web (1931)
Jane of Lantern Hill (1937)
Collected short stories
Chronicles of Avonlea (1912)
The Road to Yesterday (1974)
The Doctor's Sweetheart (1979)
Akin to Anne: Tales of Other Orphans (1988)
Along the Shore: Tales by the Sea (1989)
Among the Shadows: Tales from the Darker Side (1990)
After Many Days: Tales of Time Passed (1991)
Against the Odds: Tales of Achievement (1993)
At the Altar: Matrimonial Tales (1994)
Across the Miles: Tales of Correspondence (1995)
Christmas with Anne and Other Holiday Stories (1995)
The Blythes Are Quoted (2009)
External links
Community content is available under
CC-BY-SA
unless otherwise noted.