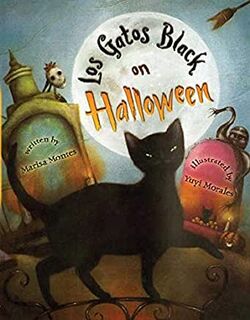 Los Gatos Black on Halloween (ISBN 1250079454) is a children's picture book of thirty-two pages. It was first published in the United States in 2006. The verse story is by the Puerto Rican author Marisa Montes. The illustrations are by the Mexican-born artist Yuyi Morales. The book portrays various supernatural creatures having fun on Halloween,
The story is mostly written in English but it includes eighteen different Spanish words. Non-Spanish speaking children should not have much difficulty following the story. Each time that a new Spanish word is introduced, its English equivalent appears soon afterwards. The illustrations should also aid children's comprehension. The book can be used to introduce children to Halloween-related Spanish vocabulary in an entertaining way. A glossary of Spanish words used in the story with a pronunciation guide is also included in the book, Yuyi Morales' illustrations are heavily influenced by the iconography related to the Mexican Day of the Dead and the book can be used to help introduce non-Hispanic children to that festival.
Summary
On Halloween night, black cats with green eyes prowl, pumpkin lanterns glow and witches fly on their broomsticks. Skeletons, ghosts, ghouls and zombies are abroad. The moon shines on a vampire, a mummy walks and a werewolf howls. Coffins open and the dead rise from their graves. They all make their way to a haunted house. They have a party and enjoy dancing to music. Their fun comes to an abrupt end when they hear a knock at the door. The monsters and creatures of the night are all terrified of children. They flee in terror from the costumed trick-or-treaters who are standing in the doorway.
Glossary of Spanish words used in the book
In alphabetical order
las brujas - witches
las calabaza - pumpkins
las escobas - brooms
la casa - the house
los esqueletos - skeletons
los fantasmas - ghosts
los gatos - cats
la luna - the moon
medianoche - midnight
la momia - mummy
los monstruos - monsters
los muertos - the dead
la música - music
los niños - children
la noche - night
los ojos - eyes
'la puerta - the door
la tumba - tomb
See also
External links
Community content is available under
CC-BY-SA
unless otherwise noted.