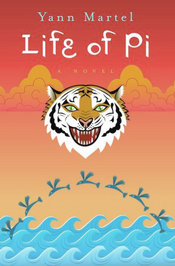 Life of Pi is a 2001 novel by Yann Martel. It is the story of Piscine Molitor 'Pi' Patel, a young Indian boy and a Bengal tiger.
The novel won the Man Booker Prize in 2002. A movie adaptation of Life of Pi was released in 2012.
Plot
The story opens with our narrator struggling to write his book. He escapes to the tea plantations in India to try and find inspiration. While in India, he meets a man who promises to tell him a story that will make him believe in God.
Pi's story
The Patels plan to emigrate to Canada and gain passage on board a ship that, unfortunately, sinks during the voyage, taking everyone but Pi, an orangutan, a zebra, a hyena, and a Bengal tiger.
Pi, who is an avowed Hindu, Muslim, and Christian, struggles to survive as the animals are slowly killed off, leaving him alone with the tiger, Richard Parker. Pi has to learn to fish in order to stay alive once his emergency supplies run out. He also devises an ingenious way to feed and keep Richard Parker away from him.
Pi discovers an island made out of a mystery plant that tastes delicious during the day but turns carnivorous at night. Eventually, his malnutrition blinds him temporarily, and he has a conversation with another castaway during this time.
Finally, Pi comes ashore in Mexico, and Richard Parker leaps off the boat and slinks away into the grass, never to be seen again. Pi is found and admitted to hospital. There he is visited by two men, representatives of the Japanese company that own the ship that sunk. Pi tells them his story but they tell him they do not believe him, and ask for the real story.
Pi tells them yet another story, a much more pedestrian version that mirrors the original. The two men admit they preferred his first story.
Pi later moves to Canada and this is where our narrator meets him.
External links
Community content is available under
CC-BY-SA
unless otherwise noted.