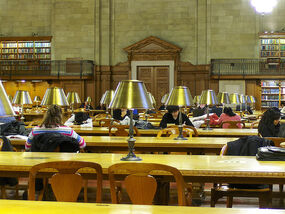 A library is a collection of books or related items. Nowadays, when many people say "library", they mean large, public lending libraries, but originally libraries were usually private collections of books or scrolls in a grand house or mansion. Sometimes groups would get together and use a membership subscription to buy a collection of books that the members could borrow, read and return. Benjamin Franklin created the first, public, lending library in the Americas. Eventually many towns and municipalities came to see their libraries as a source of civic pride, like a grand concert hall or large stadium. Public funds were used for some of these libraries, but shelves, rooms, wings and even entire library buildings are sometimes named after the donors who provided private funds and donations.
Libraries have evolved from collections of books. They often have CDs, DVDs, journals, audio/visual (A/V) equipment to loan. And libraries have become the repositories of some art collections and original drafts of important research or creative work, such as early drafts of famous novels. Many libraries have workstations where patrons can access the Internet. Libraries may have reading rooms or just some scattered chairs and tables or study cubicles. Some libraries also have public meeting rooms that may be used for clubs. And some libraries raise funds by selling used books, such as extra copies of books that used to be more popular or extra donated books from the community.
Many schools have their own libraries. Students, teachers and staff may freely borrow materials and unaffiliated researchers may be granted special permission to use or borrow the facilities.
A library card used to be the first piece of public ID (identification) that many children would have.
Professional organizations often have their own private libraries. A hospital may have a collection of reference texts and professional journals. A law firm will often have some law books and a subscription to an online collection of legal precedents.
Some libraries still raise funds with a subscription fee, and many charge penalties if you keep the materials out longer than the permitted time.
External links
WorldCat.org claims to be The World's Largest Library Catalog with over 1.5 billion items listed.
Community content is available under
CC-BY-SA
unless otherwise noted.