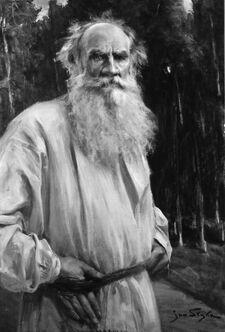 Leo Tolstoy (1828-1910), also known as Lev Nikolayevich Tolstoy, was a Russian author. He was known for being the creator of the psychological novel along with Fyodor Dostoyevsky.
Tolstoy was a master of several genres. His best known novels are: Anna Karenina and War and Peace. His first writings were three autobiographical novels: Childhood, Boyhood, and Youth (written between 1852 and 1857.
Biography and works
Leo Tolstoy was born on August 28, 1828 in Yasnaya Polyana, central Russia. Tolstoy's childhood was spent between Moscow and Yasnaya Polyana, in a family of three brothers and a sister. He lost his mother when he was two, and his father when he was nine. His aunt, Madame Ergolsky, became his tutor. In 1844, Tolstoi started to study law and oriental languages at Kazan University. The teachers there described him as "both unable and unwilling to learn". He abandoned his studies and never completed them.
In 1849 he settled down at Yasnaya Polyana. He was always an insatiable searcher for a rational and moral justification of life. He started writing a diary as an experiment to practice a technique of psychological analysis. This was his beginning on the road to mastery of psychological literature, his specialty.
In Childhood, he wrote a short autobiography. It is very lyrical, according to many reviewers. He describes living in his father's house outside the city and the novel finishes when his beloved mother dies.
He married Sofia Bers. When they had their first son the novel The Cossacks was published.
War and Peace
Between 1866 and 1869 Tolstoy wrote War and Peace. The novel is about the Russian aristocracy during the Napoleonic Wars (mainly the War of the Third Coalition and the French invasion of Russia). It describes in great detail the Battle of Austerlitz, life in peacetime in Moscow and Saint Petersburg (the current capital of Russia at the time), the bloody Battle of Borodino, the French occupation and fire of Moscow and Napoleon's retreat from Russia.
Anna Karenina
Anna Karenina is a psychological novel written in the French style with the theme of adultery and two parallel love stories. Anna Karenina is the story of Anna and his lover Vronski and the parallel story of Levin and Kitty. It is believed that Levin was Tolstoy's alter-ego, according to some scholars.
Later works
Tolstoy's later works were A Confession, The Death of Ivan Illich, Father Sergio, Sonata to Kreutzer and Resurrection, which was his third great novel.
Community content is available under
CC-BY-SA
unless otherwise noted.