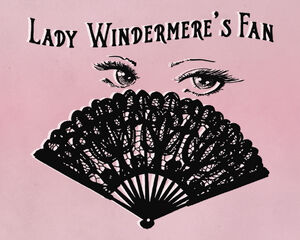 Lady Windermere's Fan: A Play About a Good Woman is a play bu the Irish writer Oscar Wilde. It was first performed at St. James's Theatre in London on February 20, 1892. It is the fourth play that Wilde wrote, the third to be performed,[1] and the first to be a critical and commercial success.
The play's title character and protagonist is a young woman who is led to believe that her husband is having an affair with a woman named Mrs. Erlnne. A party is to be held at Lady Windermere's house to celebrate her birthday. She is shocked when her husband insists on sending Mrs. Erlynne an invitation to it. Much to Lady Windermere's displeasure, Mrs. Erlynne comes to the party. Her presence there so distresses Lady Windermere that she agrees to leave her husband and start a new life with another man who has already declared his love for her. Lady Windermere completely changes her opinion of Mrs. Erlynne when, at the risk of further damaging her own reputation, she makes sure that Lady Windermere's honor remains intact. A revelation about the true identity of Mrs. Erlynne comes towards the end of the second of the play's four acts.
At the premiere of Lady Windermere's Fan, the audience cried out, "Author! Author!" in response to those calls, Oscar Wilde went on stage and delivered the following speech:
"Ladies and gentlemen. I have enjoyed this evening immensely. the actors have given a charming rendering of a delightful play, and your appreciation has been most intelligent. I congratulate you on the great success of your performance, which persuades me that you think almost as highly of the play as I do myself."
Critics at the time were not so much shocked by the egotistical nature of Wilde's speech as by the fact that he delivered it with a cigarette in his hand.
A musical based on Lady Windermere's Fan was first performed in 1954. The play has also been adapted for radio, film and television.
Plot
Act I
The play opens at the London home of Lady Margaret Windermere on the afternoon of her twenty-first birthday. She is currently the only person in the house, apart from Parker the butler and the other servants. She has been married to her husband Lord Arthur Windermere for less than two years and they have a six-month-old son.
A man called Lord Darlington arrives. He has a reputation for being wicked, although he claims that reputation is undeserved and that it is simply a pretense. Lord Darlington notices and admires a fan on the table. Lady Windermere says that the fan was a birthday present from her husband and that it has her name on it.
Lady Windermere chastises Lord Darlington for having paid her "elaborate compliments" at a party the previous evening. Lord Darlington tells Lady Windermere that he wants to be a good friend of hers because he believes that she will soon need a friend. It is obvious that Lord Darlington hopes to have an affair with Lady Windermere. Lady Windermere, however, will not think of it. She admits to being something of a Puritan as a result of the strict upbringing she had. Lady Windermere says that her mother died when she was very young and that afterwards her care was left largely to Lady Julia, her father's elder sister, who instilled in her an uncompromising sense of right and wrong.
Lord Darlington asks Lady Windermere to consider what he says is a hypothetical situation. A man who has been married for less than two years is known to often call on a woman of "more than doubtful character" and probably pays her bills. Lord Darlington asks Lady Windermere if she thinks the man's wife has the right to "console herself". Lady Windermere does not think that a man having an affair gives his wife an excuse to have an affair also and finds the suggestion disgusting.
The Duchess of Berwick arrives with her daughter, a young woman known as Lady Agatha Carlisle. Lord Darlington leaves soon afterwards. The Duchess says, "I must tell you how sorry I am for you, dear Margaret.", before making an excuse to send her daughter to another part of the room. She then begins to talk about "that horrid woman" Mrs. Erlynne and mentions that her brother Augustus is quite infatuated with her. When Lady Windermere makes it clear that she has no idea who Mrs. Erlynne is, the Duchess makes another excuse in order to send her daughter out of the room altogether.
The Duchess says that Lord Windermere visits the home of Mrs. Erlynne four to five times a week and that, while he is with her, Mrs. Erlynne will not allow any other visitors into her house. The Duchess also believes that Lord Windermere must have given Mrs. Erlynne large amounts of money because she arrived in London six months earlier with nothing but now makes great displays of her wealth. Before leaving, the Duchess advises Lady Windermere to save her marriage by getting her husband out of London and going on vacation with him abroad so that she can keep an eye on him at all times.
In order to see if what the Duchess of Berwick said and what Lord Darlington hinted at is true, Lady Windermere decides to look at her husband's account book. She is relieved to find no financial irregularities in it. She then notices a second secret account book that is kept locked. She forces it open with a paper knife and immediately sees that her husband has given large amounts of money to Mrs. Erlynne on at least three separate occasions.
At that moment, Lord Windermere arrives home. He is angry to see that his wife has forced open his account book but becomes saddened when Lady Windermere calls Mrs. Erlynne an "infamous woman". Lord Windermere says that Mrs. Erlynne does not deserve to be spoken about so harshly. He goes on to say that she is a widow without any relatives who has always behaved herself impeccably as long as he has known her. He admits that she lost her previous high position in society as a result of a scandal that she brought about some twenty years earlier and that she would like to recover that position. Lord Windermere explains that, since Lady Windermere is known to be a "good woman", it would help advance Mrs. Erlynne's social standing a great deal if Lady Windermere would receive her at her house. To that end, Lord Windermere wants his wife to invite Mrs. Erlynne to her birthday party that evening. Lady Windermere bluntly refuses to do as her husband asks. Lord Windermere writes an invitation to Mrs. Erlynne himself and calls Parker the butler to have it delivered to her. Lady Windermere tells her husband that if Mrs. Erlynne comes to her party, she will insult her and hit her in the face with her new fan.
Lady Windermere tells her husband that, from that point forward, they will lead completely separate lives. She calls Parker to tell him to make sure that he announces the names of each of the guests very clearly when they arrive at the party. She then leaves to spend the rest of the evening on her own, until the part starts at half past ten.
Left alone, Lord Windermere says that he cannot tell his wife who Mrs. Erlynne really is because the shame would kill her.
Act II
Lady Windermere's birthday party is underway. The Duchess of Berwick and her daughter Lady Agatha are there. The Duchess is anxiously awaiting the arrival of the wealthy young Australian man Mr. Hopper. The Duchess hopes that Lady Agatha will spend all evening dancing with Mr. Hopper and that the two of them will become engaged. When Mr. Hopper arrives, the Duchess feigns indifference and claims that Lady Agatha will not be able to spend much time dancing with him because she has already promised to dance with other guests for most of the evening. The Duchess of Berwick's ruse works. Before the party is over, Mr. Hopper has asked Lady Agatha to marry him.
Other guests arrive, including Lord Darlington, the young men Mr. Dumby and Mr. Cecil Graham and the Duchess of Berwick's brother Lord Augustus Lorton, who is nicknamed Tuppy. In spite of the bad reputation that she has, Lord Augustus greatly admires Mrs. Erlynne, saying that her cleverness means that she is able to explain everything. He plans to ask her to marry him.
Lady Windermere stands by a doorway through which guest enter. She holds her fan in her hand, ready to strike Mrs. Erlynne in the face with it when she arrives. While waiting, she gives Lord Darlington a thrilling surprise by telling him, "I want a friend tonight." When Mrs. Erlynne does arrive, Lady Windermere loses her nerve and drops the fan. The two women bow to each other and Mrs. Erlynne enters the room.
Mrs. Erlynne is introduced to all of the society ladies at the party. All of them, including the Duchess of Berwick, are charmed by her and change their previously low opinions of her. Lord Augustus is keen to dance with Mrs. Erlynne. She, however, since she is a guest in Lord Windermere's house, insists on dancing with Lord windermere first.
Seeing that Lady Windermere is distressed, Lord Darlington invites her to go out onto the balcony where they can talk in private. Lady Windermere expresses her disgust at her husband having brought his mistress to their house and having danced with her there. She says that she no longer wants to stay in the house and tells Lord Darlington again that she needs his friendship. Lord Darlington says that it is impossible for men and women to be friends but he would like to be Lady Windermere's lover and eventually her husband. He says that he is leaving England the following day and urges Lady windermere to leave her home and her husband that night and go with him. Lady Windermere wants some time to think about Lord Darlington's suggestion. Lord Darlington, however, insists on her giving an answer immediately. She then tells Lord Darlington that she will not run away with him. Lord Darlington leaves, telling Lady Windermere that she will never see him again.
as the party comes to an end, Mrs. Erlynne talks to Lord Windermere in private. She says that London society has not changed much in twenty years, although the pretty Lady Windermere has changed because the last time that Mrs. Erlynne saw her she was an ugly baby. Mrs. Erlynne goes on to say that Lord Augustus has asked her to marry him. She plans to agree to his proposal the following day when she will be able to tell Lord Augustus that she has an annual income of 250 pounds. She expects Lord Windermere to give her that money.
Lady Windermere changes her mind about running away with Lord Darlington. She writes a letter to her husband, informing him that she is leaving him, and goes out.
Mrs. Erlynne looks for Lady windermere. Parker the butler informs her that Lady Windermere has left the house and shows her the letter to Lord windermere that she left on the table. When Parker leaves the room, Mrs. Erlynne reads the letter and says, "Oh, how terrible. The same words that twenty years ago I wrote to her father." Lord Windermre briefly enters the room and Mrs. Erlynne tells him that his wife has gone to bed. She keeps hold of the letter that Lady Windermere wrote. After Lord Windermere leaves the room, Mrs. Erlynne says, "The daughter must not be like the mother - that would be terrible - How can I save her? How can I save my child?" She decides that she has to keep Lord Windermere out of the house. Seeing Lord Augustus, she tells him to take Lord Windermere to his private club and to keep him out all night.
Act III
The third act takes place in Lord Darlington's London apartment. Lady Windermere is there alon. she worries that she made the wrong decision by deciding to run away with Lord Darlington. She also feels, however, that she now has no choice but to leave with him. She is certain that her husband must have read her letter by now. She takes the fact that he has not come and tried to persuade her to come home as proof that he does not love her.
Mrs. Erlynne arrives. She tells Lady Windermere that she is making a terrible mistake and urges her to go back to her husband before Lord Darlington returns home. Lady Windermere, believing that her husband has sent his mistress to persuade her to come home, is disgusted. Mrs. Erlynne tells her that her husband believes her to be sleeping in her own bed because he never read her letter. She takes the letter, tears it up and throws it on the fire. Lady Windermere, not having had a chance to have a good luck at the letter, does not believe what Mrs. Erlynne says. Mrs. Erlynne says that she will no longer see Lord Windermere. she tries to explain that all the money that Lord Windermere gave her was given not out of love for her but out of hatred for her, love for Lady Windermere and a desire to save Lady Windermere shame and disgrace. It is when Mrs. Erlynne reminds Lady Windermere that she has an infant son who needs her that Lady Windermere tearfully agrees to return home.
Before Lady Windermere and Mrs. Erlynne have a chance to leave, they hear men's voices. They hide behind curtains. Lady Windermere leaves her fan behind on a sofa. Mrs. Erlynne tells lady Windermere to leave as soon as she has the chance.
Lord Darlington enters the apartment with Mr. Dumby, Mr. Cecil Graham, Lord Windermere and Lord Augustus. it is almost two o'clock in the morning. Lord Augustus' private club has closed and the men have been forced to leave. Lord Augustus, however, is still trying to do as Mrs. Erlynne told him by keeping Lord windermere out all night.
A game of cards is suggested. Lord Augustus says that he has promised Mrs. Erlynne that he will give up playing cards and drinking alcohol. Cecil Graham mocks the idea of Lord Augustus becoming good for Mrs. Erlynne's sake. Mr. Dumby comments that Lord Augustus is the only one of them who is not good. Lord Darlington expresses his belief that all people are essentially bad by saying, "We are all in the gutter but some of us are looking at the stars." The romantic nature of this statement cause Cecil Graham to conclude that Lord Darlington must be in love. Glancing at Lord Windermere, Lord Darlington admits to being in love with a good married woman who cannot love him back because she cannot be unfaithful to her husband. He says that he is not currently seeing any other women because he is faithful to his unobtainable one true love.
Cecil Graham does not believe what Lord Darlington has said about being faithful to his one unobtainable love because he has seen the woman's fan on the sofa. He points out the fan to Lord Augustus. Lord Windermere wants to go home. In a feeble attempt to keep Lord Windermere out longer, Lord Augustus tells him that Cecil Graham has something to show him. Lord Windermere sees the fan and immediately recognizes it as his wife's. He demands an explanation from Lord Darlington as to how the fan came to be there.
Mrs. Erlynne comes out from behind the curtain. While all of the men are looking at Mrs. Erlynne, Lady Windermere takes the opportunity to slip away quietly. Mrs. Erlynne says that she took the fan, mistakenly thinking that it was hers. Mr. Dumby and Cecil Graham are amused by the idea of Mrs. Erlynne having a secret relationship with Lord Darlington. Lord Augustus is upset. Lord Windermere feels nothing but contempt for Mrs. Erlynne's behavior.
Act IV
It is late in the morning of the following day. Lord Windermere did not return home until five o'clock in the morning and Lady Windermere did not get up until after half past nine. Lady windermere is uncertain about what Mrs. Erlynne might have said after she left Lord Darlington's apartment and is worried that her husband might have learned the truth. Nevertheless, she wants to thank Mrs. Erlynne for what she did for her.
Lord windermere enters the room. he says that he thinks that he and Lady Windermere should go away to the country. Lady Windermere says that she would like to see Mrs. Erlynne first to thank her for her kindness. Lord Windermere is horrified by the idea of Mrs. erlynne going anywhere near his wife or his home ever again.
Parker brings in Lady Windermere's fan and announces that Mrs. Erlynne has arrived. Mrs. Erlynne says that she has come to say goodbye because she is leaving England that afternoon. She goes on to say that she would like to have a photograph of Lady Windermere with her baby son. Lady Windermere goes upstairs to fetch one.
When Lady Windermere leaves the room, Lord Windermere begins to berate Mrs. Erlynne for all the trouble she has cause. He says that he wishes that Mrs. Erlynne had simply told his wife the truth, that she is the mother whom Lady Windermere thought had been dead for twenty years, because that would have saved all of them a lot of suffering. Lord Windermere criticizes Mrs. Erlynne for having no thought of her daughter for twenty years until she found out that she had married a wealthy man and saw the opportunity for blackmail. He adds that he feels that his wife's fan has become dirty due to its association with Mrs. Erlynne and he does not want to see it again. Mrs. Erlynne says that she hopes that Lady Windermere will give her the fan. She admits to being a bad mother, saying that she only acted as a mother once in her life, the previous evening, and that she does not want to do that again because it caused her too much pain. She believes that it is better for Lady Windermere to continue to believe that her mother was a saintly woman who is now dead.
Lady Windermere returns with the photograph. Mrs. Erlynne finds the photograph delightful and asks what the baby boy's name is. Lady Windermere tells her that he is named Gerard after her late father and that he would have been named Margaret, her name and her mother's, if he had been a girl. Mrs. Erlynne says that her name is Margaret too. Mrs. Erlynne asks Lady Windermere if her father ever spoke about her mother. Lady Windermere replies that all her father ever said about her mother was that she died a few months after giving birth and that saying anything else about her caused him too much pain.
Mrs. Erlynne announces that she must leave. Lady Windermere asks her husband to check if the carriage in which Mrs. Erlynne arrived has returned. When he leaves the room, Lady Windermere begins to profusely thank Mrs. Erlynne. Mrs. Erlynne says that the best way that Lady Windermere can show her gratitude is through silence and she should never again saying anything about the events of the previous evening.
Lord Windermere says that Mrs. Erlynnne's carriage has not returned but Mrs. Erlynne says that she will leave anyway. She asks Lady Windermere if she will give her fan to her as a present. Lady Windermere points out that the fan has her name, Margaret, on it. Mrs. Erlynne reminds her that her name is Margaret too. Lady Windermere agrees to let her have the fan.
Lord Augustus arrives. Mrs. Erlynne asks him to carry her fan for her as she leaves. After Mrs. Erlynne has left the room, Lady Windermere asks her husband to promise never to speak ill of Mrs. Erlymme ever again. Lord Windermere has to admit that Mrs. Erlynne is a better person than he thought she was. Lady Windermere insists that Mrs. Erlynne is a better person than she is and does not like the suggestion that the two of them belong to different worlds.
Lord Augustus comes back into the room. He says that Mrs. Erlynne has explained everything that happened the previous night to him. She said that she went to Lord Darlington's house because she was looking for Lord Augustus, intending to tell him that she had decided to marry him. She became frightened when she heard the men's voices and instinctively hid behind the curtain. Mrs. Erlynne and Lord Augustus have now agreed to get married, although Mrs. Erlynne insists that they must live outside England. Lady Windermere tells Lord Augustus, "you're marrying a very good woman."
Adaptations
The British playwright, actor, director, singer and composer Noël Coward adapted Lady Windermere's Fan as the musical After the Ball. It was first performed at the Globe Theatre (now known as the Gielgud Theatre) in London's West End on June 10, 1954.
Film adaptations of Lady Windermere's Fan include Lady Windermere's Fan (UK 1919), Shàonǎinai de shànzi (少奶奶的扇子, China 1924),[2] Lady Windermere's Fan (USA 1925), Story of a Bad Woman (Historia de una mala mujer, Argentina 1948), The Fan (USA 1949) and A Good Woman (USA/UK/Italy/Spain 2004).
A British TV adaptation of Lady Windermere's Fan, starring Helena Little as the title character, was first shown on BBC 2 on September 15, 1985 as the first episode of the long-running Theatre Night series. Belonging to Laura, starring Aisling Bea, is an adaptation of Lady Windermere's Fan set in present-day Dublin that was made for Irish television. It was first broadcast on TV3 in the Republic of Ireland on December 21, 2009.
British radio adaptations of Lady Windermere's Fan include a version starring Joely Richardson as Lady Windermere and Penelope Keith as Mrs. Erlynee that first aired on BBC Radio 4 on June 19, 1989 and a version starring Susannah Fielding as Lady Windermere and Mira Sorvino as Mrs. Erlynne that first aired on BBC Radio 3 on April 15, 2008.
See also
Sound files of public domain audiobook of Lady Windermere's Fan:
Footnotes
↑ Production of Wilde's third play, Salome, was halted in 1892 and the censor forbade the play from being performed because depicting Biblical characters on stage was illegal under British law at that time.
↑

The title means "The Young Lady's Fan"
External links
Community content is available under
CC-BY-SA
unless otherwise noted.