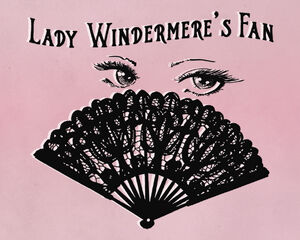 Lady Windermere's Fan: A Play About a Good Woman is a play bu the Irish writer Oscar Wilde. It was first performed at St. James's Theatre in London on February 20, 1892. It is the fourth play that Wilde wrote, the third to be performed,[1] and the first to be a critical and commercial success.
The play's title character and protagonist is a young woman who is led to believe that her husband is having an affair with a woman named Mrs. Erlnne. A party is to be held at Lady Windermere's house to celebrate her birthday. She is shocked when her husband insists on sending Mrs. Erlynne an invitation to it. Much to Lady Windermere's displeasure, Mrs. Erlynne comes to the party. Her presence there so distresses Lady Windermere that she agrees to leave her husband and start a new life with another man who has already declared his love for her. Lady Windermere completely changes her opinion of Mrs. Erlynne when, at the risk of further damaging her own reputation, she makes sure that Lady Windermere's honor remains intact. A revelation about the true identity of Mrs. Erlynne comes in the final act.
At the premier of Lady Windermere's Fan, the audience cried out, "Author! Author!" in response to those calls, Oscar Wilde went on stage and delivered the following speech:
"Ladies and gentlemen. I have enjoyed this evening immensely. the actors have given a charming rendering of a delightful play, and your appreciation has been most intelligent. I congratulate you on the great success of your performance, which persuades me that you think almost as highly of the play as I do myself."
Critics at the time were not so much shocked by the egotistical nature of Wilde's speech as by the fact that he delivered it with a cigarette in his hand.
A musical based on Lady Windermere's Fan was first performed in 1954. The play has also been adapted for radio, film and television.
Adaptations
The British playwright, actor, director, singer and composer Noël Coward adapted Lady Windermere's Fan as the musical After the Ball. It was first performed at the Globe Theatre (now known as the Gielgud Theatre) in London's West End on June 10, 1954.
Film adaptations of Lady Windermere's Fan include Lady Windermere's Fan (UK 1919), Shàonǎinai de shànzi (少奶奶的扇子, China 1924),[2] Lady Windermere's Fan (USA 1925), Story of a Bad Woman (Historia de una mala mujer, Argentina 1948), The Fan (USA 1949) and A Good Woman (USA/UK/Italy/Spain 2004).
A British TV adaptation of Lady Windermere's Fan, starring Helena Little as the title character, was first shown on BBC 2 on September 15, 1985 as the first episode of the long-running Theatre Night series. Belonging to Laura, starring Aisling Bea, is an adaptation of Lady Windermere's Fan set in present-day Dublin that was made for Irish television. It was first broadcast on TV3 in the Republic of Ireland on December 21, 2009.
British radio adaptations of Lady Windermere's Fan include a version starring Joely Richardson as Lady Windermere and Penelope Keith as Mrs. Erlynee that first aired on BBC Radio 4 on June 19, 1989 and a version starring Susannah Fielding as Lady Windermere and Mira Sorvino as Mrs. Erlynne that first aired on BBC Radio 3 on April 15, 2008.
See also
Footnotes
↑ Production of Wilde's third play, Salome, was halted in 1892 and the censor forbade the play from being performed because depicting Biblical characters on stage was illegal under British law at that time.
↑

The title means "The Young Lady's Fan"
External links