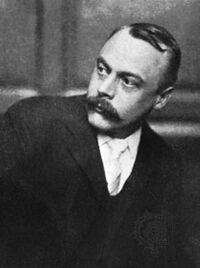 Kenneth Grahame (1859-1932) was the author of the classic children's book, The Wind in the Willows. He also wrote Dream Days, The Reluctant Dragon and The Golden Age. Mr. Grahame was a friend of Alan Alexander Milne, the creator of Winnie-the-Pooh, and other writers.
Quotes
Quote


It's never the wrong time to call on Toad. Early or late he's always the same fellow. Always good-tempered, always glad to see you, always sorry when you go!
-- The Wind in the Willows, chapter 2
Quote


One does not argue about The Wind in the Willows. The young man gives it to the girl with whom he is in love, and, if she does not like it, asks her to return his letters. The older man tries it on his nephew, and alters his will accordingly. The book is a test of character. We can't criticize it, because it is criticizing us. But I must give you one word of warning. When you sit down to it, don't be so ridiculous as to suppose that you are sitting in judgment on my taste, or on the art of Kenneth Grahame. You are merely sitting in judgment on yourself. You may be worthy: I don't know. But it is you who are on trial.
-- -- A. A. Milne
Quotes courtesy of Wikiquote [1].
External links

This article is a stub. You can help the Literawiki by expanding it.
Community content is available under
CC-BY-SA
unless otherwise noted.